Posted on
Fri, Feb 18, 2011 : 5:58 a.m.
Washtenaw County school districts stand to lose millions under Gov. Rick Snyder's proposed budget
By Kyle Feldscher
Michigan's public school districts can expect to see a large chunk of state funding disappear under Gov. Rick Snyder's proposed budget.
Snyder is eyeing a 4.1 percent reduction in K-12 education funding, which would take away $300 per pupil — in addition to an already budgeted $170 per pupil reduction. The cut in funding stands to save the state about $452.5 million, according to budget documents.
An expected increase in retirement rates will also cost school districts about $230 per pupil.
That combined $700 loss per student could spell significant trouble for Washtenaw County's school districts, which have grappled with budget problems for the last several years — prompting school closures, consolidation efforts and other measures. Per pupil state funding — which varies by district from about $7,500 to $9,000 locally — makes up the bulk of each district's general fund dollars.
"It's about being fair to people and creating a level playing field where we're all contributing," Snyder said of his budget during a speech Thursday morning.
The executive budget proposal totals $13.8 billion for education, including $12.2 billion in funding for K-12 school districts. About $8.8 billion will fund basic school operations — about $8.7 billion for foundation allowance payments and $62.1 million for intermediate school district operations, which are reduced by 5 percent.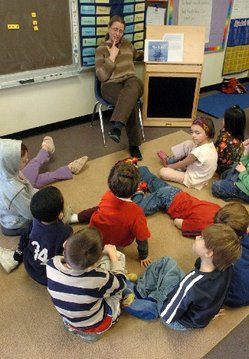 In his proposed budget, Snyder recommends creating a new State Education Funding Act that uses School Aid Fund revenue, as well as available general fund dollars, to support the state's education system at all levels. That would include K-12 education, higher education and community colleges in the same budget. Currently, K-12 education is funded separately from higher education.
Snyder's budget would maintain early childhood at about $110 million. Special education would be funded at about $1.4 billion, including $975 million of state funds. About $309 million in state funding would go toward academically at-risk students, $36 million would go toward career and vocational education and $22 million would go toward adult education.
The proposed budget cuts could translate into a $7.7 million decrease in state funding for Ann Arbor Public Schools. Increased retirement rates are expected to cost the district an additional $3.8 million. The district's approved budget for the 2010-11 school year totaled about $182.95 million.
Ann Arbor interim Superintendent Robert Allen didn't return calls seeking comment Thursday.
Ypsilanti Public Schools would lose about $1.77 million in state funding under the proposed budget. Increased retirement costs are expected to cost the district another $1.7 million. The district's approved budget for the 2010-11 school year totaled about $49.33 million.
Superintendent Dedrick Martin said he wasn't surprised by the cuts to education, but said he was concerned. He said school districts around the state will be taking notice of something Ypsilanti officials have been discussing for years — the state of public education funding in Michigan is in dire straits.
"I'm saddened that they are choosing to raid the education fund and, considering that we are a deficit district who in the 18 months I've been here has worked diligently to reduce our operating budget by about $4 million, to take a blow like this costs an additional $3.4 million minimally," he said.
Ypsilanti is operating with an about $3.7 million budget deficit during the current school year, and Martin said district officials will be having some tough conversations about how to stay solvent.
He said it's important for supporters of public schools to lobby legislators to make sure concerns about cuts to public education are heard.
"I understand that we have to tighten our belt in public education, but there comes a point when we have to evaluate what's important," he said. "It's very different to say education is a priority when sustaining financial cuts to this degree."
Saline Area Schools could lose about $2.51 million in state funding, if the proposed budget is adopted. Increased retirement rates are expected to cost the district an additional $1.26 million. The district's approved budget for the 2010-11 school year totaled about $51.75 million.
Saline Superintendent Scot Graden said he's hopeful the governor's budget is the beginning of a dialogue for school officials in Michigan to determine what's important to the state and what reforms can be made to school districts.
"It's early in the process, and we're hopeful there will be additional information to help school districts better understand how to manage this type of revenue reduction in a short period of time," he said. "We're committed to balancing our budget."
Kyle Feldscher covers K-12 education for AnnArbor.com. He can be reached at kylefeldscher@annarbor.com.