Posted on
Tue, Sep 6, 2011 : 5:57 a.m.
Long-awaited Pray-Harrold renovation finished in time for fall semester at EMU
By Kellie Woodhouse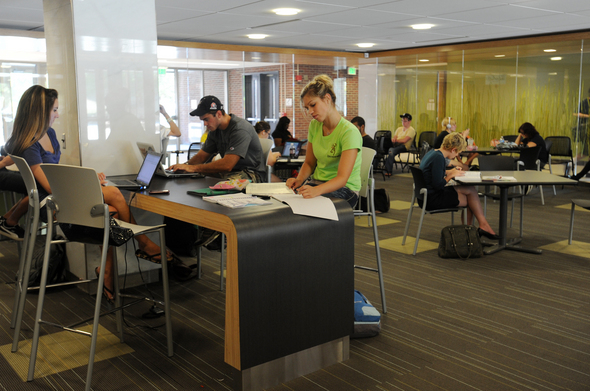 AnnArbor.com photo
Jelani McGadney used to view Pray-Harrold, the largest and busiest classroom building on the Eastern Michigan University campus, as a place to avoid.
"It was dark, confusing, cold," recalls McGadney, a senior who serves as EMU's student government president. "It was not something that I was excited to have to approach every day."
But after crews spent 16 months renovating the 42-year-old building —a $42 million project— McGadney says Pray-Harrold is now one of his favorite buildings on campus.
"It's nice to see the upgrade from an academic tombstone to an educational palace," McGadney said of the 237,108 square-foot building, which serves about 10,000 students and 300 faculty each day.
Once the largest classroom building in the state, Pray-Harrold is home to 25 percent of EMU's classes, but had not received any major updates since it was first built in 1969.
"It was a bit antiquated," said university President Susan Martin.
The new building, McGadney says, is much more "open" and "bright." It includes a glass-encased coffee shop and study area on the second floor and several study areas near elevators and windows. All the windows were replaced. Additionally, three of the four classroom auditoriums were completely remodeled and made handicap-accessible. Before the retrofitting, disabled students had to access the auditoriums through separate outdoor entrances, according to project architect Chris Mackey, a partner with Detroit architectural firm SHW Group.
"This building was built in the late 1960s and at that time people were not so aware of accessibility issues," Mackey explained. "The university made accommodations over the years as well as they could, but this renovation gave us the opportunity to address it on a more comprehensive level."
Mackey said perhaps the biggest and most difficult renovation was completely stripping out the electrical and mechanical infrastructure and installing new systems.
"We were putting new systems in a building that was designed 40 years ago, a building that wasn't necessarily designed to house those things," Mackey said. "The heights from floor to floor, the amount of space in the ceiling to get new systems in, made it very challenging."
Mackey said an exterior "green wall" uses indigenous plants to help cool the building.
Though mostly satisfied with the renovated Pray-Harrold, McGadney did say he would have liked more electrical sockets installed so students could easily charge their laptops.
EMU spokesman Geoff Larcom said it took the university more than 10 years to successfully gain state funding for the project.
He said the project has been a top capital priority since November 1999, but was stalled because of the economy and cuts in the state's appropriations budget. The state agreed to provide $31.5 million toward the project in September 2008.
The university contributed $10.5 million toward Pray-Harrold.
Martin said the university pushed hard for state funding, despite the "competitive" appropriations process.
"We had been behind in terms of getting projects; we had not had a (capital outlay) project in over 12 years," she said.
State funding, Martin said, was "essential" in EMU's effort to keep tuition low while still keeping its facilities competitive. Last year, EMU froze tuition, fees and housing rates. This year EMU raised tuition 3.65 percent, one of the lowest increases in the state.
McGadney said that while the funding was crucial, the wait for a new classroom building was too long.
"I don't think that we should have had to wait that long," McGadney said. "At the end of the day, students should not have to wait to have a place that they feel comfortable being educated in."
Martin said the university saved $3 million and significantly reduced construction time by completely moving offices and classrooms —including the entire School of Arts and Sciences— out of the building, as opposed to utilizing a phased construction plan that would have allowed parts of the building to function while other sections were remodeled.
According to Martin, it took 186 tractor-trailer loads to empty Pray-Harrold before the retrofit. The $3 million savings went toward buying new furniture for the space, Martin said.
With Pray-Harrold finished, Martin said she is looking to Lansing again to help fund the renovation of Strong Hall, a facility built in 1957 that houses the university's geology, geography, physics and astronomy departments.
The estimated cost of that renovation is $38 million. The university is asking the state to pitch in $27.5 million towards the project.
"Some of our facilities need some serious attention for our graduates to be competitive," Martin sad.
Kellie Woodhouse covers higher education for AnnArbor.com. Reach her at kelliewoodhouse@annarbor.com or 734-623-4602.