Posted on
Tue, May 1, 2012 : 10:10 a.m.
Lt. Gov. praises Ann Arbor: 'This is really one of the most dynamic and innovative regions in the nation'
By Ryan J. Stanton
Lt. Gov. Brian Calley, a Republican from Ionia County, sang the praises of Ann Arbor and its people Monday night during a local town hall forum.
"This is really one of the most dynamic and innovative regions in the nation," he said. "I mean, it's who you are and that's what this area is about."
Calley said he used to have family that lived a block away from the Big House, but it was when his young daughter came here for surgery two years ago at the University of Michigan Hospital that he truly developed a warm spot in his heart for Ann Arbor.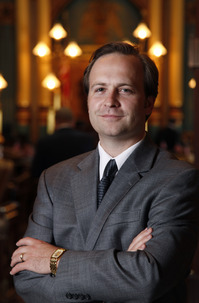 "She was born with a defect in her heart, one that the doctors over in my region said was not fixable," he said. "And of course, we came here and it was a pretty remarkable experience.
"Really dramatic. I mean, we've been through three cardiac arrests and two open heart surgeries and other various procedures and so forth," he said.
Calley said he's happy to say his daughter is 2 years old now and "totally on the mend."
"What they said wouldn't happen, happened," he said. "And it was because of the type of innovation and creativity of the medical system."
Calley also has a 5-year-old daughter with autism. He said there are hardly any autism services in the state of Michigan.
"Except for you've got them here in Washtenaw County," he said. "So we had the ability and the means to move our daughter around and to afford the therapies and so forth and made good use of what's available here in Washtenaw County for her as well."
Calley, who in April signed into law new legislation that will require insurance companies to offer coverage for autism treatments, said he's excited now about the potential for taking the autism services available in Washtenaw County across the whole state.
"Just in so many ways, this community is an example of how problems can be solved," he said of Ann Arbor. "Problems that everybody else can't figure out. Problems that seem insurmountable. And you just have remarkably the collection of resources and people and talent and creativity and determination to face down problems and solve them."
Calley was in town mainly to address the topic of personal property tax reform and expressed interest in reaching across the aisle and working with state Rep. Jeff Irwin and state Sen. Rebekah Warren, two Democrats who represent Ann Arbor in the Legislature.
"You actually have been blessed in this area with really smart people who represent you," he said. "Even though I probably would, generally speaking, disagree with Sen. Warren on a lot of policy issues, she's probably one of the smartest people in the whole town of Lansing."
Calley also reflected on budget cuts handed down by Gov. Rick Snyder's administration and the Republican-controlled Legislature, including cuts to education.
"Everybody who touches state government kind of feels like, 'Geez, I took a big part of the brunt of that,' but really everybody did," he said. "Honestly, if we haven't done anything to offend you, it just means you're not paying close attention."
On the decision to cut state funding for Michigan universities by 15 percent, Calley said it was an unfortunate consequence of a sluggish economy.
"We felt that it was necessary not to hit universities any more than 15 percent. We thought that was too much as it was," he said. "I hate that higher education funding got reduced at all, and that is a major priority moving forward."
At another point during the night, Calley openly confessed: "I'm kind of a tax nerd."
Calley also jokingly talked about the fundamental differences between him and Snyder: "I mean, he came out of venture capital. I came out of traditional banking. He's an Ann Arbor guy, and I'm an East Lansing guy. He drinks Pepsi. I drink Coke."
Ryan J. Stanton covers government and politics for AnnArbor.com. Reach him at ryanstanton@annarbor.com or 734-623-2529. You also can follow him on Twitter or subscribe to AnnArbor.com's email newsletters.