Posted on
Tue, May 1, 2012 : 5:58 a.m.
Calley: Phasing out Granholm tax credits could pay for personal property tax reform
By Ryan J. Stanton
The problem with Michigan's personal property tax, says Lt. Gov. Brian Calley, is that it punishes companies for making capital investments.
And it's particularly hard on manufacturers that rely on expensive tools and equipment in their operations, Calley told an Ann Arbor area crowd Monday night.
"The more investment you make in Michigan, the higher your taxes go," he said. "That's not the type of tax policy that we like."
Calley addressed about 50 residents, business owners and local officials as part of a town hall meeting organized by state Rep. Mark Ouimet, R-Scio Township.
Calley shared details of a new legislative proposal to overhaul the state's personal property tax, which businesses pay on items such as machinery, furniture and other equipment.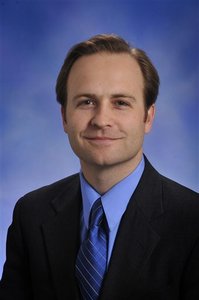 Since some neighboring states don't levy a similar tax, Gov.
Rick Snyder's
administration has
argued it puts Michigan at a disadvantage
for retaining and attracting jobs.
"We're trying to resolve what we think is an issue that could put our state at a better place tomorrow than it is today," Ouimet told residents Monday night.
The state House hasn't taken up the issue yet, but it's gaining traction in the Senate.
Calley gave an overview of a package of eight Senate bills that could reduce or totally eliminate portions of Michigan's personal property tax in the coming years.
The fear among opponents of the proposal is that lost revenue won't be made up to local governments that stand to lose while manufacturers see millions in tax relief.
In Washtenaw County alone, local governments and schools stand to lose about $43 million if the personal property tax is eliminated without replacement revenue.
Calley attempted to assuage those fears, saying he's identified replacement revenue that would hold at least 98 percent of each local government's budget harmless. And that source of revenue, starting in 2016, is the expiration of business tax credits awarded by the Granholm administration.
The Michigan Municipal League, which represents cities, villages and townships throughout the state, interprets the proposal differently.
Matt Bach, the league's communication's director, recently summarized the bills this way: It's the Legislature and Snyder telling local communities and schools: "We are going to take $470 million a year in local revenues from you, we are going to repay as much as $381 million back to you, and we are going to pay you from a new 'Personal Property Tax Replacement Fund' that we will write into state law but that does not, and never will, have a penny in it unless some future Legislature and governor decide to put money in it."
Here's a recap of Calley's take on the proposal:
The small parcel exemption
The first component of the multi-year reform measure is a move to wipe off the tax rolls all of the personal property taxes on commercial and industrial parcels where the taxable value is less than $40,000. That's achieved through Senate Bill 1070.
Calley said the small parcel exemption, while it fully exempts the majority of all commercial and industrial properties from the personal property tax starting in 2013, is not as much about tax relief as it is about administrative efficiency.
According to Calley, personal property makes up about 3.1 percent of the entire property tax base across the state, while real property makes up 96.9 percent.
"Of that 3.1 percent of the entire property tax base, by doing this exemption, it will wipe out 7 percent of that revenue — 7 percent of the 3.1 percent," he said.
But it's more than 60 percent of the parcels, he said.
"So if you think about this way: over 60 percent of the system is established in order to collect 7 percent of the revenue. When I say it's an inefficient tax, this is what I'm talking about."
Calley concluded it makes no sense for local governments to spend time and money collecting such small amounts of tax revenue from those "small parcels." He said it's a burden to local governments as much as it is to the businesses that pay the tax.
"This is an area where, frankly, we've picked up a lot of support from local governments all across the rest of the state that say, 'I might be nervous about the rest of the plan, but this part right here — if I didn't have to send out $12 tax bills anymore — I think that'd be swell,' " Calley said. "This is probably the least controversial aspect of the entire plan."
Calley said the $40,000 threshold is just a number the proposal's supporters picked, and he acknowledged that's one of its biggest weaknesses.
"All we're trying to do is get a whole bunch of the little parcels out of the system to make it much more efficient to administer," he said. "The problem that we run into is it creates a cliff. So if I have $40,000 in personal property values, I'm out of the system. If I have $41,000 in personal property values, I am in the system in terms of as a taxpayer."
Calley said if anyone had a better idea for how to wipe the small parcels off the tax rolls without creating a "cliff effect," he's all ears.
New personal property exemption
Another piece of legislation, SB 1069, would exempt all new eligible manufacturing equipment from taxation beginning in 2016.
The reason 2016 was picked, Calley said, is because that's when business tax credits approved by the Granholm administration will phase out, meaning replacement revenue would be available. By Calley's calculation, the Granholm administration doled out about $6.6 billion in targeted tax credits that are still being honored by the state.
"By the time 2016 hits, a lot of those tax credit awards will have been exhausted, and state government that used to have to pay out hundreds of millions of dollars a year in these tax credit awards will no longer have to do so," Calley said.
"This is personal property tax relief at the expense of targeted business tax credits. That's where the entire schedule comes from."
Calley acknowledged when he says the exemption would apply to all "new" manufacturing equipment beginning in 2016, it actually will apply to any equipment that was placed into service on or after Jan. 1, 2012.
And it would apply only if the equipment is located on a parcel that's used more than half the time in industrial processing — such as line manufacturing — or in a direct integrated support role such as research and development, testing, engineering or warehousing.
Exemption for existing personal property
Another bill, SB 1071, addresses how the state would phase out the "old stuff" that's already on the tax rolls, meaning equipment pre-dating 2012, Calley said.
"We phase out over the course of seven years — 2016 plus six more years — and we do it on an age-basis," he said. "So starting in 2016, we say anything 10 years old or older, it's out. It's off the system. And then every year that goes by, the next oldest year falls off."
That means in 2016, the only manufacturing equipment that still would be taxable is property purchased between 2006 and 2011. All of it would be exempt by 2022.
Between all of the different pieces happening in 2016, more than 70 of the industrial personal property would be exempt and the rest would be phased out over time. About 40 percent of all commercial personal property also would be exempt in 2016.
"The reason why there's a big chunk in that first year in 2016 is because that's when the battery credits expire," Calley said, referring to tax credits Granholm gave out to lure advanced battery production to Michigan. "We're going to be paying out huge credit awards to them in 2012, 2013, 2014, 2015 and then they run out."
Existing tax abatements
Four bills in the package, SBs 1065-1068, allow for continuation of existing abatements on personal property, which local governments have the ability to approve right now.
"What this does is it establishes a system where wherever the abatement is at right now — let's say if it expires in the next few years — it just stays where it's at until it phases out," Calley said.
"In other words, it prevents the idea that you're going to have something go back on the rolls just to be immediately phased back out," he said.
Reimbursement fund
SB 1072 establishes a reimbursement fund, which Calley said is intended to provide replacement revenue when personal property taxes are phased out.
He acknowledged it only establishes an expectation of an amount. The mechanism by which local governments actually get the money, he said, is very much open to discussion.
Calley shared a formula the administration has in mind. He called it a "bare minimum" expectation for providing replacement revenue to local governments.
He said any lost tax revenue that was tied to a local government's debt repayment or a tax-increment financing arrangement would be reimbursed 100 percent.
And there would be an expectation that at least 98 percent of the rest of the budget of each local government unit would be protected as well, Calley said.
"I know we've got the money, and I'm willing to dedicate it to local government, and I'm putting it on the table saying it's yours," he said.
Legislative timeline
Calley said the Legislature is going to work at whatever pace it deems appropriate, but the Senate is treating personal property tax reform with much more urgency at this point.
"The Senate seems to want to move the package through the process between now and mid-summer," he said, adding he hasn't heard anything from the House.
"It will probably move out of Senate committee over the course of the next few weeks," he said. "When it might move out of the Senate itself is very much an open question. But in terms of the process in the House of Representatives, I do not believe that the leadership in the House of Representatives is committed to moving it at all before the traditional summer break."
Ryan J. Stanton covers government and politics for AnnArbor.com. Reach him at ryanstanton@annarbor.com or 734-623-2529. You also can follow him on Twitter or subscribe to AnnArbor.com's email newsletters.