Posted on
Fri, Jul 6, 2012 : 4 p.m.
Highway closed: M-14 and southbound US-23 backed up; reopening likely by 8:30 p.m.
By Ben Freed
Earlier Story: M-14 closed at Barton Drive near Ann Arbor; US-23 also affected
Southbound US-23 and Westbound M-14 are both backed up several miles and drivers are advised to avoid the area after a semi-flatbed truck spilled a train car 20-foot shipping container full of benzene dicarboxylic acid on the road this morning.
The most recent update from the Washtenaw County Sherriff's Department said that the US-23 and M-14 interchange is expected to be closed for the next 5 hours, meaning that M-14 is not expected to open until 8:30 p.m.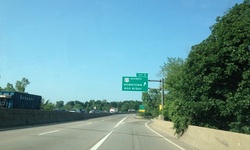 Christofer Machniak | MLiveMediaGroup
The road opening will depend on the ability of the relief workers to do their jobs in the extreme heat.
A private HAZMAT contractor is now overseeing the decontamination of Westbound M-14. Two dump trucks of sand have poured 50 to 100 gallons of sand on the spill in an attempt to form a barricade and contain the acid, according to Sgt. Mark Thompson of the Michigan State Police.
The accident occurred at 7:25 a.m. and the highway was closed in both directions after the spill. According to Thompson, the unloading process has begun, but due to the danger of explosion, crews are using extreme caution while loading the semi containers.
"The hazardous liquid will need to be evac(uated) (think of a vacuum cleaner) and the containers off loaded," Thompson said in an email.
Huron Valley Ambulance transported the driver of the vehicle that spilled the acid to the University of Michigan Hospital shortly after the accident. He was in stable condition. AnnArbor.com previously reported that a tow company worker was also transported to the hospital. He was treated on the scene and refused transport according to HVA public affairs manager Joyce Williams.
5:52 p.m. update: Michigan State Police have reopened one lane of southbound US-23 to westbound M-14. Westbound M-14 is still closed and traffic is being routed northbound on US-23. Police expect westbound M-14 to be closed for two more hours.

View 2012 Washtenaw County Traffic Reports in a larger map
Ben Freed covers business for AnnArbor.com. Reach him at 734-623-2528 or email him at benfreed@annarbor.com. Follow him on twitter @BFreedinA2