Posted on
Sun, Feb 7, 2010 : 6 a.m.
Tough budget decisions lie ahead for Ann Arbor City Council
By Ryan J. Stanton
Ann Arbor City Council members are going into a Monday night budget session knowing that Michigan's slumping economy is battering and bruising the city's finances - just as it has other cities across the state.
The tough decisions council members must make in the next three months became clearer this weekend as they received detailed reports from city administrators. A series of budget impact sheets outline more than $5.2 million in newly proposed cuts, on top of millions already trimmed from the budget.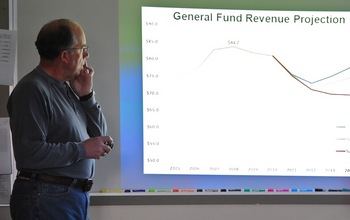 Ryan J. Stanton | Ann Arbor.com
Nearly half of the proposed cuts would impact public safety services. On the chopping block are 20 positions in the fire department and 17 in the police department.
"The city's revenue projections are grim, but our constituents rightly demand that we focus on public safety," said Council Member Christopher Taylor, D-3rd Ward. "I will study the administrator's sobering proposals to determine how the city will provide high-quality safety services if these cuts go into effect."
The reports sent to council members Friday night come as the City Council prepares for another budget working session expected to last from 6 p.m. to 9 p.m. Monday night in city hall.
The city's budget has seen revenues drop sharply over the last two years - from what started as an $89.2 million balanced budget in fiscal year 2008-09 to a projected $76.1 million budget for the fiscal year starting in July.
At its current rate of spending, the city is on pace to go into next year with $81.3 million in expenses to account for. If the city can't cut costs or raise revenues, it would dig itself a $5.2 million hole in 2010-11.
The budget impact reports now in the hands of the City Council reflect city staff's plans for trimming 7.5 percent from the budgets of every service area in the city. Public safety is no exception.
The 17 positions in the police department that face elimination would trim $1.98 million from what was projected to be a $26.5 million budget in the next fiscal year. That includes laying off nine sworn police officers, seven positions within the community standards division and one management assistant.
The fire department has a $13.3 million projected budget for the next fiscal year, after having made $677,678 in cuts already this year.
The much-debated layoff of 13 firefighters and elimination of one vacant position are still scheduled to take effect in July, which will save nearly $1.4 million. In addition, another six firefighters were added to the possible layoffs - for a total elimination of 20 firefighter positions in July. The additional cuts would save another $997,445.
"This will result in the closing of fire substations, resulting in increased response times due to crews responding from the remaining fire districts," the budget sheet prepared by city staff reads. "Service reduction may impact regional response agreement talks and may void response agreement draft with Ypsilanti."
Mayor John Hieftje said no one wants to cut further into police and fire, and all options will be exhausted before that happens.
"I think you'll see us do everything we can to preserve public safety," he said. "And you'll also see us bargaining with our employees and doing everything we can to cut expenses. And I hope that those bargaining units will work with us."
Just three weeks ago, the firefighters union voted to approve a new contract that included a voluntary 4 percent reduction in compensation. Firefighters, who were hoping to avoid layoffs, say they're disheartened to see the city now proposing even more staffing cuts than before.
According to a staff analysis, additional cuts to the fire department would take daily staffing levels below national standards to effectively and safely fight an average-sized house fire and may raise insurance rates.
In parks and recreation, $285,961 in new cuts are proposed, on top of $328,982 already planned. Staff is recommending keeping Mack Pool and the Senior Center open, but implementing a series of cuts and revenue enhancement options that were identified by special task forces.
The city is proposing raising user fees at some facilities, including the Fuller and Olson athletic fields, outdoor pools, hockey rinks at Buhr and Veterans Ice Arena and Fuller Pool. The city also could increase fees for canoe rentals and institute parking at Allmendinger and Frisinger parks during University of Michigan football Saturdays.
Hieftje said he's getting feedback from residents that it could be time to consider increasing revenues instead of cutting so deep. He expects the council to consider asking voters to approve an income tax, which could add $7.6 million annually in new net revenues to the city.
City officials who favor an income tax have argued the average property owner in Ann Arbor won't feel the impact of the tax because, in conjunction with the new tax, property taxes would come down by about 15 percent. The 75,000-plus people who commute to Ann Arbor for work would bear the brunt of the shift in tax burden, according to proponents of the income tax.
"I've never been a fan of the income tax," Hiefte said. "But it may be a decision that we'll have to face."
City Administrator Roger Fraser didn't mince words this past week when he told City Council members it's time to set aside politics and be willing to make bold - and perhaps unpopular - budget decisions.
"I understand that these are politically difficult things to talk about," Fraser said. "I understand that we have elections every year. I understand that six of you are up for election this year. But I also understand that we've got some major issues that need to be resolved in terms of our budget, and something's got to give."
Ryan J. Stanton covers government for AnnArbor.com. Reach him at ryanstanton@annarbor.com or 734-623-2529.