Posted on
Sat, Jan 19, 2013 : 10 a.m.
Four different itineraries for visiting Detroit and the 2013 Auto Show
By Kyle Mattson
You've been to the casinos, yelled "opa" in Greektown, and had your photo taken beside the massive concrete bengal in front of Comerica Park. It may be easy to rush in and out of Detroit when visiting for special events like seeing the Detroit Lions handed another frustrating loss, but the annual auto show provides the opportunity to check out some of the traditional and more unique destinations around town. To help you plan your trip to the 2013 North American International Auto Show we've prepared a few suggested itineraries to make the most of your 40-some mile drive.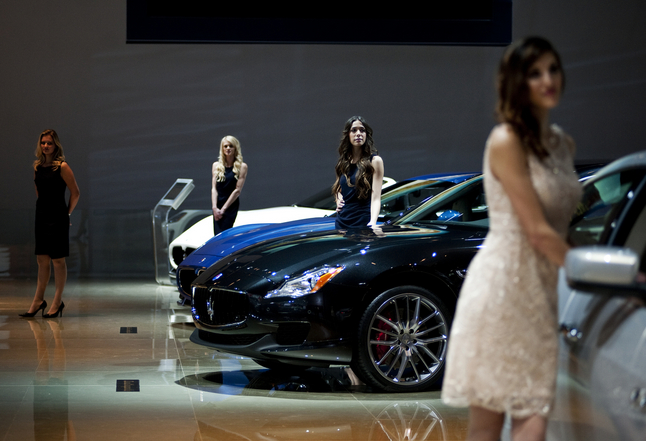 For the Townie
Do you experience Tree Town withdrawal anytime you drive outside the freeway wall circling Ann Arbor? Not to worry, the Motor city has a number of destinations that will remind you of home. Before you begin fighting the crowds, get your caffeine fix at a destination bearing a similar cosmic name to Ann Arbor's Comet Coffee — Astro Coffee, located in the shadow of Michigan Central Station.
If you're from Ann Arbor there's a good chance you love a good read, and there is no destination for used books like the shelves of
John King Books
. Addicted to the smell of aged paper, dimly lit aisles, and creaking floors? Well, you may get so lost in here that you don't even make it to the auto show.
After the show refuel your stomach. Not to fear, a familiar friend is near at Seva's Detroit location. Your post-dinner entertainment destination awaits just a few blocks away in the form of Detroit's answer to the Michigan Theater, the Detroit Film Theater. If your film is out in-time, take a brisk walk around the corner to finish the evening with a sweet-treat at Good Girls Go To Paris Crepes.
For the Family
Although cars may be entertaining, the show can be more taxing to a child's attention span than shopping at the mall during the holiday season. Mix up your trip by splitting your day into two halves.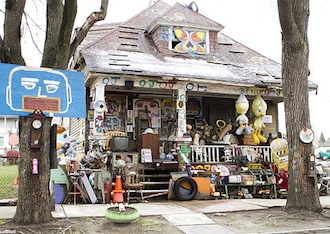 Start your day fresh at the show before the crowds arrive followed-up by introducing the young ones to their first bite of Detroit's iconic coney dogs at your choice of
American
or
Lafayette
Coney Island. After they've had their fill of chili-covered frankfurters, jump in the car and head over to Belle Isle to check out the
recently reopened aquarium
and examine the various species of plants housed in the
Anna Scripps Whitcomb Conservatory
.
Last, but not least, take a detour on the way back to I-94 at the Heidelberg Project. While it may not be a $750,000 fountain, a house covered in stuffed animals is guaranteed to spark the imagination.
Make it a Date
Taking a special someone along? Unless they are a true gear-head you probably don't want to spend your entire day wandering the floor of Cobo Hall. So, I'll give you two options to consider here, an early bird plan, and another if you are aiming for an afternoon visit.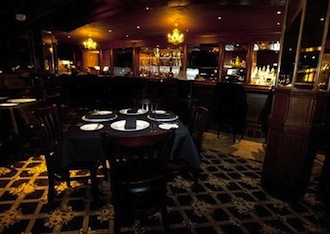 For those looking to takle the show early, start by parking in the Detroit Opera House
parking garage
followed by a stroll down to
The Hudson Cafe
for brunch to eat your fill of red velvet pancakes (order the half-stack — trust me). From here you have two options, burn off those calories by walking the remainder of the way down Woodward, or hop on the People Mover at the Cadillac Center station for a slightly warmer, but most likely longer trip to Cobo. If you're still looking for something to do after the show head over to the DIA or
Le Petit Zinc
for a light French lunch in a unsuspecting location.
For those of you heading down later, when you're done snapping of photos of each other in a convertible and debating what your dream car would be it's time to select a dinner destination. The London Chop House is a walkable destination, but don't let that limit your culinary exploration. Other options just off the People Mover route include: Vincente's (Cuban), Angelina Bistro (Italian), Roast (Steakhouse), Joe Muer Seafood in the RenCen, or Cliff Bell's for the music lover. After dinner, finish the date over a craft cocktails at The Sugar House.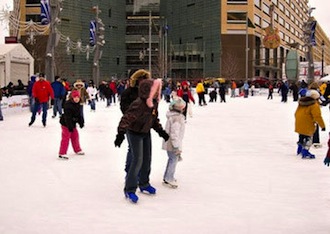 With Friends
It's probably safe to say that someone has recommended you go to Slows BBQ, but despite their
recent expansion
, you still may end up waiting in line to fulfill your brisket craving. So, after the show order up a couple of pies to-go at the increasingly popular
Supino's Pizzera
and take them over to
Atwater Brewery
to dine while you sample craft brews from the middle of the brewing facility. If you're looking to keep the evening going either head back downtown to skate the rink at
Campus Martius
followed by drinks at
Foran's
or check out the hipster hangout,
Cafe D'Mongos
.