Posted on
Tue, Oct 18, 2011 : 12:15 p.m.
Local artists give feedback on Dreiseitl water sculpture at city hall
By Jennifer Eberbach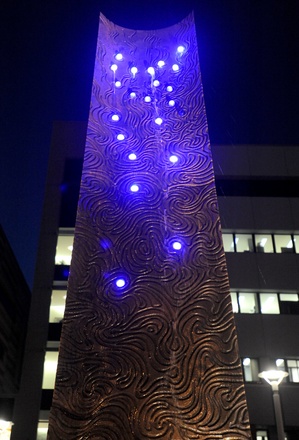 Angela J. Cesere | AnnArbor.com
Members of the Ann Arbor arts community are reacting to the
controversial water sculpture
recently installed at the city's municipal center, and opinions of those interviewed are generally positive.
German artist Herbert Dreiseitl designed the piece, which still has some detail work to be done. The blue LED lights and water have not been permanently turned on yet; however, a crowd got a chance to see it all turned on at a dedication ceremony earlier this month. Others have wandered to the site, on East Huron east of Fifth Avenue, and seen what it looks like turned off.
Sculptor Rick DeTroyer just installed his own public artwork, "Seats of Our Heritage," in Saline on North Ann Arbor Street. He hopes Dreiseitl's sculpture "will make people aware of how water is a precious commodity. We turn on faucets and take it for granted. I think the city is wise to bring about some awareness," he said. "The idea of appreciating water really comes through because of the rain garden. The more green space in the city that captures water, lets it go back into the earth, or be utilized the better. The water sculpture with the rain garden and walkway going over it makes you stop and smell the roses, so to speak."
Douglas Kelbaugh, a U-M architecture and urban planning professor and the former dean of the A. Alfred Taubman College of Architecture and Urban Planning, generally likes Dreiseitl's water sculpture—with one reservation:
"It's a thoughtful, well-executed piece with a good theme. It's in the right location as far as its relationship with the building, the entrances to the building, and the little park. It's in the right place with the right design," he said. However, "it could be taller ... If you look at the size of just the plaza, then it is big enough. But when you realize it's next to Huron, a very wide street and a big urban void, it just doesn't feel big enough to command that size of a space."
Local fashion designer and fabric artist Rebecca Lambers hopes "this will be an area you can walk through, sit down, and look at the sculpture. We didn't have anything like this along Huron. I walk down to the People's Food Co-op and different areas, but I generally wouldn't have walked through here. But now, I'm more likely to," Lambers said. She likes the way the sculpture lights up and had water running through it: "It's going to be really cool at night."
An artist who has supported the installation of Dreiseitl's work all along is painter and mixed-media artist and chair of the Milan Arts Center Leslie Sobel. "I love Dreiseitl's work," she said. "... This is going to be a peaceful and playful place in the center of the city. Art shouldn't just be in a box, in a gallery. It should be somewhere you can play with it."
Kinetic sculptor Richard Burns, who had a monumental sized sculptural flag pole featured at ArtPrize in Grand Rapids, has mixed feelings about the Dreiseitl piece. Although he likes its size, "there were a couple of things that didn't thrill me. I'm not sure I like the lights; they seem a little gimmicky, and the shapes in the ramp where the water comes down are a little bit too organized and rigid for me. I think it would have been more successful if there was more randomness in it or more motion," he said. Overall, though he sees it as "generally a successful piece that I think people will warm up to."
None of the creative types who shared their initial impressions with AnnArbor.com said they feel slighted because an international artist was selected instead of a local artist. "If there were equal level artists, one from here and one from Germany, who could make art that fits the criteria, than I would say, sure, choose the local artist. However, from what I know about it, there were few options locally that fit what they wanted to do," said architectural and furniture designer Paul Hickman.
A few artists are reserving judgement until the finishing touches are complete. Festifools director Mark Tucker, who has been a vocal supporter of public art in Ann Arbor, is giving it time to sink in. However, his first impression is that the water sculpture, plaza, and rain gardens are worth the money. "What it does is give you a benchmark—this is that $750,000 will buy you. I don't think people always realize what art can cost," he says. "In the long run, we'll end up with all kinds of art. People just have to give it time," he said.
Painter and pastel artist Janet Kohler, who teaches at the Ann Arbor Art Center, did not get a chance to see it with the water and lights on, but she took a look when it was turned off. "Like other fountains, they'll have to turn it off when it's winter, which makes sense. But it's good to see a public sculpture. I thought it was beautiful," she said. "I could envision water flowing down those wonderful crescent shapes on the platform. The walkway that they're building will be a nice winding, sloping pathway that comes off the street. Even if people aren't going into the municipal center, they might want to walk across the rambling brook and see the water fall. And it marks the entrance better."
A few finishing touches to the Dreiseitl sculpture will happen in the next few weeks. Kenneth Clein of Quinn Evans Architects told AnnArbor.com that the plan is to have the lights and water on around the end of the month or shortly after. He says the walkway over the adjacent rain garden should be installed around the same time.
(This story has been revised to remove incorrect information regarding past work that Dreiseitl has done.)