Posted on
Thu, Jun 17, 2010 : 6:04 a.m.
Man charged with sexually assaulting EMU student is a suspect in recent home invasions, police say
By Amalie Nash
A man crawled through the front window of a home on a busy street across from Eastern Michigan University's campus mid-morning on Monday, presumably looking for items to steal.
Once inside, police say, he discovered a student sleeping and decided to sexually assault her at knifepoint.
After assaulting the woman, the intruder fled, and she called 911.
Officers, already on alert due to a rash of home invasions in the area over the last two weeks - quickly descended on the streets surrounding the Ypsilanti campus. A suspect was soon arrested.
Jermaine Ulysses Shropshire, 30, is facing charges of first-degree criminal sexual assault, first-degree home invasion and felonious assault with a knife. In addition to the sexual assault on West Cross Street, Shropshire is accused of attempting to break into a home on North Adams Street on the same day.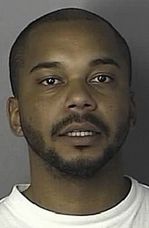 Ypsilanti Police Chief Amy Walker said Shropshire also is a suspect in several of the other recent residential burglaries - but not all of the cases.
"It was really great work that they were able to catch him so fast," Walker said. "We're putting all the pieces of the investigation together now."
Shropshire, who was arraigned Wednesday and jailed without bond, has a criminal history in Washtenaw County that includes convictions for stealing from cars, stealing and possessing financial transaction devices and receiving and concealing stolen property, records show. He was discharged from probation in February, according to the Michigan Department of Corrections.
Shropshire had been staying with friends in the Ypsilanti area recently, Walker said.
Walker said there's no evidence Shropshire was stalking or targeting the 22-year-old EMU student. "We believe he was intending to break into the home and found her inside," she said.
About 90 minutes before the sexual assault, Shropshire is accused of attempting to break into a home in the 600 block of North Adams. A resident told police the man was scared away when she confronted him.
Police were unable to provide the exact number of burglaries in the campus area, but said the crimes have been occurring for two to three weeks. In most cases, entry has been gained through unlocked windows or by pushing windows open.
The most recent burglary occurred at 1 a.m. Tuesday, police incident logs show. A resident in the 400 block of Emmet Street responded to a knock at the front door and also heard the bedroom screen ripping, the log said. The resident went to the bedroom and saw a laptop being pulled out of the window.
Walker said police have a suspect in that case and are following leads in the other recent break-ins.
EMU officials sent an alert to the campus community Tuesday, urging students who live in off-campus housing to take precautions. EMU Police Chief Greg O'Dell said campus officers are assisting in the investigation.
Walker urged residents to keep their doors and windows locked.
"We don't want people to panic, but we want people to be safe," Walker said. "We want people to be aware of their surroundings and look out for suspicious activity. Here you have someone who went through a bedroom window directly across from the EMU campus at 10:30 in the morning. It was pretty brazen."
Shropshire will appear for a preliminary hearing June 29.
Amalie Nash is the news director at AnnArbor.com. You can reach her at amalienash@annarbor.com or at 734-623-2521.