Posted on
Wed, May 8, 2013 : 5:59 a.m.
Man convicted of torturing boy maintains innocence in emotional courtroom outburst
By John Counts
The 22-year-old Superior Township man who will spend 31 to 65 years in prison for putting a child in a scalding bath asked prosecutors why they blamed him in an emotionally charged outburst at his sentencing.
"What do you want to prosecute me for?" Harvey Wince yelled at Assistant Washtenaw County Prosecutor Blake Hatlem April 29. "I'm a good man. What are you all prosecuting me for? This ain't right!"
AnnArbor.com obtained a video of the sentencing via a request at the Washtenaw County Trial Court.
Wince had to be restrained by sheriff deputies behind the lectern as he lunged at Hatlem, sitting at the prosecutor's table a few feet away. Family and friends of Wince also shrieked and openly wept in court as Judge Darlene O'Brien read off the sentencing.
The outburst started soon after O'Brien read off the stiffest sentence, 380 months to 65 years for one count of torture. Wince was convicted by a jury of torture, first-degree child abuse and resisting arrest.
As O'Brien reaches the sentence for the child abuse count, a woman is heard crying in the court and Wince behind struggling with the deputies, who hauled the screaming man out of the courtroom.
Sentencing had to be resumed about three hours later.
The outburst followed arguments by both the defense and the prosecution about sentencing guidelines, the scoring of which could have affected Wince's prison time.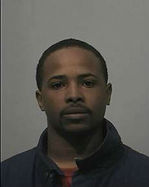 Courtesy of the Washtenaw County Sheriff's Office
James Fifelski
, Wince's attorney, asked O'Brien to sentence his client at the bottom of the guidelines.
"I think there was evidentiary support that this was an accidental burn," he said."A bottom of the guideline sentence will serve all the interests of sentencing."
Fifelski said there was also character testimony at the trial that the judge should consider. This was the second time Wince was tried. The first trial resulted in a hung jury. A second jury convicted Wince of the charges March 21.
Hatlem argued Wince should be sentenced at the top of the guidelines because of the severity of the injuries. The 3-year-old boy Wince was babysitting for suffered a laceration of his liver, a bite mark and burns on 18 percent of his body. A jury convicted Wince of putting the boy in scalding hot bath water at Wince's townhouse in the 8900 block of MacArthur Boulevard in Superior Township on April 1, 2012.
"Those obviously qualify as excessive brutality," Hatlem said about the injuries. "Let's make sure he doesn't do it again. I think the fact that there is no rationale for this level of brutality and assault on a child should give this court serious pause when deciding how to treat the defendant. The lack of an explanation … I think requires this court to sentence him at the top of the guidelines."
Wince also had a chance to speak before the sentence was passed.
"I took care of my niece and my nephews since they (were) kids," he said. "I never hurt them. Prosecutor is saying that I hurt kids. I never hurt a kid. He's saying that this is an example to set on an innocent man even though I got found guilty by a jury, but that don't mean I did it."
Wince told police he put the boy in the bathtub, in ankle-deep water that was lukewarm, while he went to play a video game. Wince said he returned to the bathroom later and found the boy standing in the bathroom with "soggy" skin. He said the boy turned the hot water on himself.
"Your Honor, I'm asking you to give me leniency and mercy because I'm not a bad man," he continued. "I'm a good person."
O'Brien chose not to sentence Wince at the bottom of the guidelines.
"The jury didn't believe your defense and the child's injuries were devastating," she told Wince.
John Counts covers cops and courts for AnnArbor.com. He can be reached at johncounts@annarbor.com or you can follow him on Twitter.