Posted on
Fri, Apr 30, 2010 : 3:08 p.m.
Mark Ouimet promises to work across party lines if elected to 52nd District state House seat
By Ryan J. Stanton
Washtenaw County Commissioner Mark Ouimet today announced his candidacy for state representative in the 52nd District, vowing to work across party lines to help Michigan reclaim its position as a powerhouse.
"As a fifth-generation Washtenaw County resident, I feel a strong pull to public service," the Scio Township resident said in a written statement.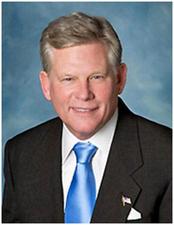 "The problems we face are Michigan's problems, and we must act as citizens, not partisans, to solve them," he said. "We have to be focused on results. We can no longer afford to be caught up in party politics."
Ouimet, a Republican, has served as an Ann Arbor City Council member and as a board member of several community and philanthropic organizations.
He said the November election is critical for the future of the county and the state, and that Michigan's revival requires someone with a proven ability to work with both Republicans and Democrats.
Michigan's 52nd District includes Chelsea, Dexter, Manchester, Saline and northeast Ann Arbor. It also includes the townships of Ann Arbor, Bridgewater, Dexter, Freedom, Lima, Lodi, Lyndon, Manchester, Northfield, Scio, Sharon, Sylvan, and Webster.
Democrat Pam Byrnes currently holds the seat, but can't run again because of term limits. Christine Green, a Democrat, also is running for the seat.
Ouimet currently serves as vice chairman of the Washtenaw County Board of Commissioners. He points out he's the first Republican to serve in a leadership position on the county board in more than 20 years.
"People who know my work see me as someone who stays focused on issues, not party politics," said Ouimet, who was elected as county commissioner in 2004. "And they know of my strong background in the financial world and participation in organizations."
After earning a master's degree in business and economics from LaSalle University, Ouimet returned to Michigan where he served as chancellor and chief operating officer at Northwood University.
He serves on the boards for the Ypsilanti Chamber of Commerce, the United Way of Washtenaw County, C.S. Mott Children's Hospital, Ann Arbor SPARK, American Red Cross Advisory Board, Success by Six and Ele's Place.
Ouimet said jobs and education are top priorities.
"I'm concerned about the state's education budget," he said. "We need to go to a two-year budgeting system that would allow us to budget and fund our schools so we can get back to focusing on our kids' education."
Noting that Michigan's economy has shed more than 1 million jobs over the last decade, Ouimet said the state needs to create a tax system that encourages reinvestment in the state instead of penalizing businesses.
"We need to create the environment for job creation," said Ouimet. "The only way to increase our tax revenue is to grow the economy."
He said getting Michigan back to work demands closer attention to entrepreneurship, agriscience, farming, alternative energy, biotechnology and tourism.
As county commissioner, Ouimet said he is particularly proud that the board has balanced the county budget — a difficult task considering the county faced a $30 million structural deficit heading into this year — and that affordable public safety has been maintained in the western part of the county.
Ouimet, the father of two adult children and grandfather of a 4-year-old boy, is married to Donna Hrozencik, an obstetrician/gynecologist.
For more information, go to www.markouimet.com.
Ryan J. Stanton covers government for AnnArbor.com. Reach him at ryanstanton@annarbor.com or 734-623-2529.