Posted on
Tue, Sep 4, 2012 : 9:15 a.m.
Mary Sue Coleman leads U-M through decade of challenge, growth
By Cindy Heflin
University of Michigan President Mary Sue Coleman gets high praise from members of the board of regents and an alumnus in a profile in the Detroit Free Press Tuesday.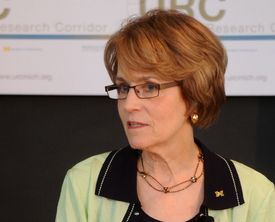 Coleman, 68, has led the university through a decade of growth and change, the newspaper reports. During that time, Coleman oversaw the construction and renovation of many buildings on campus, including the new
C.S. Mott Children's and Von Voigtlander Women's Hospital
; the purchase of the
North Campus Research Complex
after Pfizer closed its Ann Arbor facility; and the largest fund-raising campaign in the university's history.
Coleman achieved those successes, the newspaper reported, after arriving at the university in the wake of the scandal involving athletic booster Ed Martin, who pleaded guilty in a money-laundering scheme involving athletes and as the university was facing challenges over its practice of considering race in evaluating applicants.
Coleman plans to stay at the university for at least two more years, the newspaper reported.