Posted on
Tue, Nov 27, 2012 : 5:57 a.m.
Mary Sue Coleman: Michigan will 'wait and see' how affirmative action fares in federal courts before changing policy
By Kellie Woodhouse
University of Michigan President Mary Sue Coleman said Monday that the institution would take a "wait and see attitude" on affirmative action.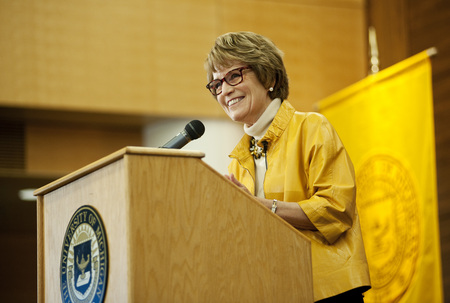 Daniel Brenner | AnnArbor.com
Coleman's statement comes less than
two weeks after a federal appellate court
, in an 8-7 vote, struck down a voter-approved 2006 constitutional amendment that banned affirmative action practices by Michigan's 15 public colleges.
University officials are hesitant to reinstate formerly used affirmative action policies due to the possibility the ruling could be further appealed and because of an ongoing U.S. Supreme Court case that is examining the lawfulness of affirmative action.
"There are so many moving parts right now," Coleman said.
The appellate court ruling, issued Nov. 15, was a victory for U-M, which has championed affirmative action for more than a decade. However, Michigan Attorney General Bill Schuette —who opposes considering race in admissions and has said admissions policies "must be based upon merit"— has vowed to appeal the ruling to the next level: the U.S. Supreme Court.
Meanwhile the country's highest court already is considering affirmative action policies in Fisher v. University of Texas, a current case examining whether the University of Texas' consideration of race in admissions is fair and lawful. Prior to oral arguments in October, U-M attorneys filed a brief in support of Texas and affirmative action policies.
Fisher v. University of Texas is the first time the U.S. Supreme Court has debated affirmative action policies since the 2002 Grutter v. Bollinger case, in which justices ruled that U-M could consider race in admissions but found that the school's existing policy considered race too heavily.
"Clearly we look at this very carefully," Coleman told faculty leaders during a Monday meeting. She said that the school is waiting to see whether Schuette appeals to the U.S. Supreme Court and whether the high court accepts the case before re-establishing affirmative action admissions policies. The school, along with hundreds of others, also will look toward the Supreme Court decision —which is expected in 2013— in the Fisher v. University of Texas case.
"The attorney general has requested a stay [so] we will take a wait and see... attitude," said Coleman, who has long been a supporter of affirmative action policies.
Kellie Woodhouse covers higher education for AnnArbor.com. Reach her at kelliewoodhouse@annarbor.com or 734-623-4602 and follow her on twitter.