Posted on
Mon, Oct 31, 2011 : 5:57 a.m.
Mass exodus? University of Michigan tries to fight domestic partner benefits ban as employees think of looking elsewhere
By Kellie Woodhouse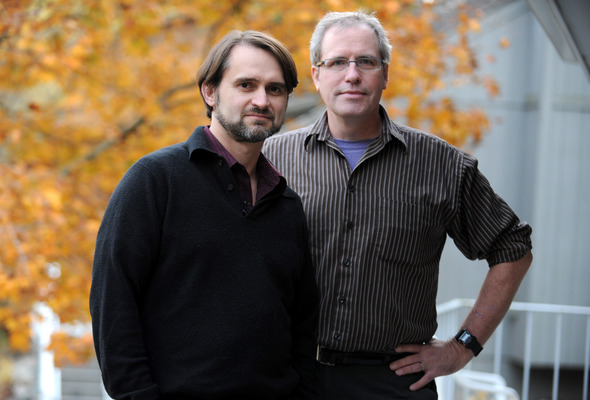 Angela J. Cesere | AnnArbor.com
Andries Coetzee has already started looking for a new job.
The University of Michigan linguistics professor is afraid he's going to lose benefit allowances for his domestic partner of seven years, who is in remission after an exhausting battle with soft tissue sarcoma, a rare type of cancer.
A recurrence is an all-too-real risk, and good health care is essential, argues Coetzee, who has been with partner Gary Woodall for seven years.
But domestic partner benefits for state employees —including staff at Michigan's 15 public universities— are in jeopardy due to a bill that seeks to save approximately $8 million a year by eliminating the benefits. House bill 4770 was approved by the Michigan House of Representatives in September in a 64-44 vote and is currently under consideration by the state senate.
Coetzee, who moved to Ann Arbor from South Africa ten years ago, said he is frustrated that rights for same sex couples in Michigan appear to be "moving in the opposite direction" of most communities. This year alone, five states have passed or enacted legislation allowing civil unions between same sex couples.
"I question my decision to come to Michigan," Coetzee said. When Coetzee accepted a job at U-M, he also turned one down at New York University. "I chose Michigan because it just seemed better. But now New York just made same sex marriage legal and now in Michigan… they want people like my partner to not get treated."
U-M Latin professor Sara Ahbel-Rappe said that if bill 4770 passes there will likely be a large exodus of professors who leave the university.
"It's a total slap in the face. It tells me that I don't deserve the same consideration" as heterosexual couples, she said. "People will leave."
Ahbel-Rappe and six other professors authored a letter to Gov. Rick Synder asking him not to sign bill 4770 if passed by the senate. The letter calls the bill discriminatory and says it will negatively affect staff recruitment at the university.
U-M officials are also concerned about the bill's effects. Nearly all of U-M's competitors offer benefits to same-sex partners. So do most Fortune 500 companies.
"These benefits are important for the successful recruitment and retention of our top-flight faculty and staff," said Cynthia Wilbanks, U-M's vice president of government relations. "We're in competition on a lot of levels, this would be an added competitive disadvantage."
Wilbanks said the university is actively lobbying politicians in Lansing.
Will it be enough? "If the bill gets to the senate floor there will be a vigorous debate ..." she said, "but over a long career, I have learned not to speculate."
But the uncertainty is too much for some professors, who don't want to be left in the lurch if the bill passes.
"The consequences of this is that I am actively applying for jobs elsewhere… at universities that don't have these limitations," Coetzee said. "I don't want to leave the University of Michigan, I am really happy here. It's a great school to work at, but I have to take care of my family."
Scott Dennis has been a librarian at U-M for 14 years. His partner of 10 years originally moved to Ann Arbor after being lured by the school's domestic partner benefits (that partner now runs his own business).
Dennis says, if passed, the bill would be an insurmountable blow to U-M.
"I am concerned for the university as a whole," Dennis said. "It would be a really damaging blow to the university's reputation as a fair and humane employer. I think it would cause us to lose faculty and never get them back."
"It would just be tragic for the university," he added.
Rep. Dave Agema, a Republican who sponsored the bill, contends that there are 618 individuals —at a cost to the state of $7,000 to $10,000 per person— receiving benefits through U-M's domestic partner benefits program. The program allows the non-biological children of a staff member's domestic partner to also receive benefits.
Currently domestic benefits extend to both heterosexual and homosexual domestic partners.
"It is not the responsibility of taxpayers to support the roommates and unmarried partners of public employees," Agema said in a statement. "Providing benefits in this way is not the role of the state, especially when tax dollars are in short supply and there are critical programs being affected by the decrease in revenue."
Sonya Alvarado, president of the Eastern Michigan University Federation of Teachers union, said the bill sends the wrong message to college students.
"The message we would be sending to our students if this goes through is a negative one," she said. "The university is about inclusion. The university is about open discussion. This bill just goes against everything that the university is about."
If the senate passes the bill, Snyder has the authority to veto it.
Kellie Woodhouse covers higher education for AnnArbor.com. Reach her at kelliewoodhouse@annarbor.com or 734-623-4602 and follow her on twitter.