Posted on
Fri, Dec 21, 2012 : 11:28 a.m.
Mayan Apocalypse: 3 other ways the world (probably) won't end
By Kyle Mattson
If you're reading this the world has not yet ended. In fact, you're probably at work counting down the hours until a long holiday weekend.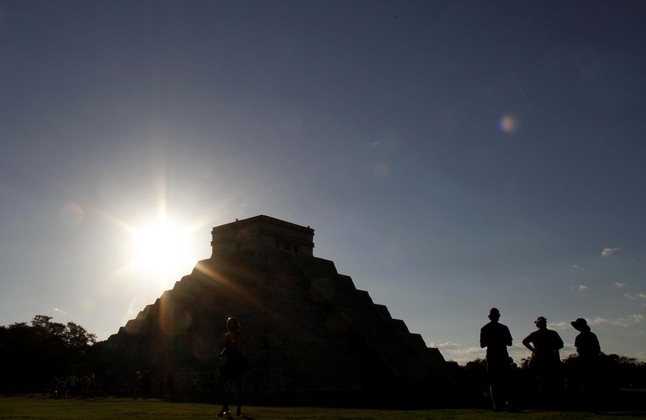 Although the Mayans may have been wrong, the end of the world chatter reached near Y2K levels the last couple of weeks. It also has given many another reason to party this holiday season, sans the ugly sweaters.
We may have crossed one doomsday scenario off the list, but there's no shortage of other possibilities that may bring the demise of the human race. With the help of blockbuster movies, scientific studies, religious writings, and of course, the internet, we've all considered how the world may end. Here are three scenarios we're probably safe from here in Ann Arbor at least:
Robot Take Over - I'll admit one of my favorite movies of all time is Planet of the Apes (the original), while a world dominated by monkeys that actually shop at Ikea is considered as highly unlikely by many, the fear of take over by robots seems a much more tangible risk. There already may be technology advancements which allow cars to drive themselves and frightening military contraptions run through forests prompting Human Rights Watch to publish a case against killer robots. Luckily, at the current rate of artificial intelligence it appears that robots will continue to be confined to hunting down dust bunnies on our hardwood floors rather than the lives of our loved ones.
Zombie Apocalypse - The bad news, zombies have already invaded Ann Arbor. The good news, we've all survived so far. Even better, it is probably one of the disasters we are most prepared for. Guided by films and books for surviving a world filled with the living dead there's a good chance we'll be able to contain the epidemic before it puts the entire world at risk. So the question is not will we be able to defend a zombie outbreak, but if we can survive the current zombie pop-culture obsession.
Alien Invasion - This one is a bit more up in the air. Even if you are a die-hard extraterrestrial believer, there still is the question of whether any alien vistors will be of the the Reese Pieces-loving nature or laser-wielding, world-domination mindset. Considering this, I would say it is unlikely we have a justified reason to be fearing glowing lights hovering over the state. Plus, if War of the Worlds taught us anything we have bacteria on our side to back us up just in case.
Now that we have those out of the way, how do you think the human race could face its eternal fate?