Posted on
Fri, Aug 3, 2012 : 5:58 a.m.
Mayor John Hieftje details his vision for funding proposed new train station in Ann Arbor
By Ryan J. Stanton
Mayor John Hieftje says Ann Arbor could get a new $30 million train station, and the city's share of the cost could be less than $3 million.
In his opinion, that's a bargain.
But that's only hypothetical, and others still aren't convinced.
"Where is the money to build this train station? That's my question," said Sally Hart Petersen, who is running as a Democrat in Tuesday's primary in hopes of ousting 2nd Ward City Council Member Tony Derezinski, one of Hieftje's allies and a supporter of the vision for new train station.
"I just don't know where the money is supposed to be coming from to do this to sustain it now and in the future," Petersen said at a candidate forum this week.
The issue has divided the eight candidates seeking election to the Ann Arbor City Council in Tuesday's primary. With Amtrak ridership on the rise, four of the candidates — Eric Sturgis, Margie Teall, Chuck Warpehoski and Derezinski — support the idea of a new train station in Ann Arbor.
Their four opponents — Sumi Kailasapathy, Jack Eaton, Vivienne Armentrout and Petersen — have opposed the idea and have questioned where the money would come from.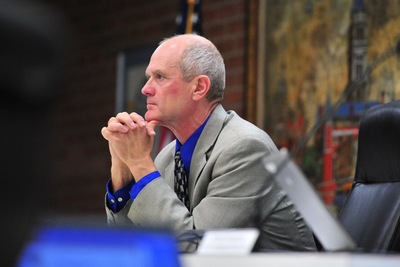 Ryan J. Stanton | AnnArbor.com
Hieftje is leading the charge to pursue a new train station as the federal government makes hundreds of millions of dollars in rail improvements along the Detroit-to-Chicago corridor.
He responded to his political foes' concerns about funding for a new train station on Thursday, mentioning the city already has a first-phase federal grant of $2.8 million that's paying for the planning stages, and he fully expects more federal funding for the actual construction will follow.
"As I have said repeatedly lately, more and more jobs are coming to our city and this is not expected to change," he said. "We can decide to spend money building more parking structures or we can expand transit options. Using federal funds, rather than having them go to some town in California or New York, to expand rail capacity in Ann Arbor makes a lot of sense."
Hieftje noted the city of Dearborn is preparing to move forward with construction of a new 16,000-square-foot, $28.2 million Amtrak station that's being fully funded by federal stimulus dollars.
By comparison, Hieftje said, Ann Arbor's station could cost about $30 million. And in that hypothetical scenario, $24 million would come from the Federal Railroad Administration.
Hieftje said that leaves $6 million that would have be locally contributed, and that could come from any number of sources, including the city of Ann Arbor, the Ann Arbor Transportation Authority, the University of Michigan and the Michigan Department of Transportation.
He suggested the money from contributing parties could pay for specific elements, including bus capacity in the station, rail sidings, a walkway into the U-M hospital (assuming the station is built on Fuller Road), rail platforms, pedestrian and bicycle improvements, and parking.
With all of those parties able to contribute in some way, the city's investment could be less than $3 million for a $30 million station, Hieftje said.
"It would be one-time money so the city would have options," Hieftje said, adding it could come out of the city's fund reserves, possibly a small bond if a secure revenue stream is in place (he says not the general fund) or even a one- or two-year millage that would have to be approved by voters. He said there also might be revenues from the station that could offset the costs over time.
"Operating costs are expected to be paid by Amtrak and there could be other income from parking, fees charged to concession operators, taxis, etc.," he noted.
"This would all be nailed down before finally going forward. Everything would be spelled out. In fact, the FRA requires development of a financing plan in the current planning phase."
Hieftje and other city officials have their sights set on Fuller Road as the location for the train station, right in front of the University of Michigan Hospital, but alternatives — including renovating or rebuilding the station on Depot Street — remain under consideration.
"I can't stress enough that all the facts will be in front of council and the public, and all the financials will be analyzed before anything goes forward," Hieftje said. "All costs would be nailed down before the community made a decision. And of course, at this point the location of a new station is yet to be determined — it could be rebuilt in the same place."
Rendering by Neumann Smith architects
Asked this week about the prospect of federal funding for a new train station in Ann Arbor, U.S. Rep.
John Dingell responded
: "That appears to be under control, and the mayor seems to be content. I haven't talked to him about it for a while, but when last I did everything was in good order."
Hieftje acknowledged the likelihood of funding could depend on who is in charge of the FRA after November, but he pointed out Ray LaHood, the current transportation secretary, is a Republican.
"Even still, again as I understand it, this is regular FRA funding and is not contingent on any special funding or stimulus," Hieftje said, noting Amtrak stations are being upgraded and replaced all along the corridor, and Ann Arbor remains the busiest stop between Detroit and Chicago.
Hieftje said he wouldn't be surprised if the number of Amtrak passengers riding the rails between Detroit and Chicago doubled in just a few years.
"As you know, even with the current slow, undependable Amtrak service, ridership has been growing," he said. "With a $400 million investment in improving the corridor leading to dependable, higher-speed service in brand-new cars, there will be significant increases in ridership.
"It will be a much better option than flying to Chicago and it will present very convenient service to all points east and west on the line."
Amtrak sends three passenger trains through Ann Arbor in each direction each day. Hieftje said Amtrak has mentioned the possibility of adding two new passenger trains to accommodate expected growth in ridership.
"If that happened, Amtrak could easily become the commuter provider without even including the train MDOT has for this purpose," Hieftje said.
Amtrak is in agreement with the mayor that Ann Arbor has outgrown the train station on Depot Street, but it's leaving the decision to build a new station up to the city.
"What is clear in the case of Ann Arbor is our passenger volumes have exceeded the size of the current station and its parking, particularly the difficulty passengers face when using the parking lot on the opposite side of the tracks from the station," Marc Magliari, a Chicago-based spokesman for Amtrak, said earlier this year.
Ryan J. Stanton covers government and politics for AnnArbor.com. Reach him at ryanstanton@annarbor.com or 734-623-2529. You also can follow him on Twitter or subscribe to AnnArbor.com's email newsletters.