Posted on
Tue, Nov 6, 2012 : 11:58 p.m.
Hieftje and Warpehoski beat opponents by landslide in Ann Arbor mayor and council races
By Ryan J. Stanton
This story has been updated.
After being re-elected to another two-year term Tuesday night, Mayor John Hieftje says he's excited about working with a new Ann Arbor City Council with a few new faces.
"I'm excited about Ann Arbor's prospects right now," he said. "I think we have the budget in good shape and it's an exciting time as we're coming out of the Great Recession. The job numbers are looking good — it looks like we're continuing to add jobs."
Hieftje, a Democrat, cruised to victory over Independent challenger Albert Howard with 84.1 percent of the vote.
Political newcomer Chuck Warpehoski, a Democrat who ran with Hieftje's endorsement in the 5th Ward, just as easily defeated Republican Stuart Berry.
He had 81.5 percent of the vote.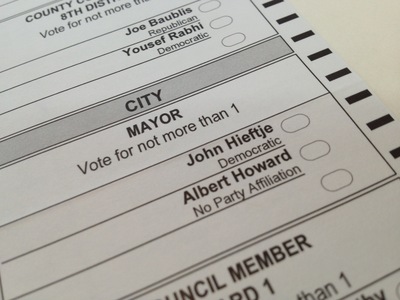 Ryan J. Stanton | AnnArbor.com
There were no other contested races for council. Democratic incumbents Christopher Taylor and Margie Teall ran unopposed in the 3rd and 4th wards, respectively.
Two new faces to council — Democrats Sumi Kailasapathy and Sally Hart Petersen — also ran unopposed in Tuesday's election after beating challengers in the primary.
All incoming council members and the mayor will be sworn in and start new two-year terms later this month. That marks the start of a new council in which Hieftje loses some control and might have a harder time pushing forward his agenda, including a new Amtrak station on Fuller Road and an expansion of transit services.
Given that several outlying townships have opted out of the Ann Arbor Transportation Authority's countywide transit expansion, Hieftje said he's in favor of taking a step back and reassessing.
"I appreciate the fact that AATA has gotten the question out there and gotten that conversation going," he said. "This particular version of it doesn't look like it's going to work, but that's fine. Maybe we need to look more at the core — the cities and townships closest to Ann Arbor."
Instead of a true countywide expansion, Hieftje said it might make sense to start a new discussion with the city of Ypsilanti and Pittsfield and Ypsilanti townships about expanding transit services in the county's urban core, since other townships don't seem too interested in that.
Hieftje said he also wants to reassess the city's efforts around public art after the defeat of Tuesday's ballot proposal for a dedicated public art tax.
"The voters spoke on that one and I can understand why and what their feelings were," he said. "I think we'll need to take another look at art. There's going to have to be a conversation at City Council about how we can continue to be one of the leading cities in the state when it comes to art."
Hieftje has seen his political allies, who once held a strong majority on council, drop off over the past few years. In 2009, Stephen Kunselman ousted Leigh Greden, one of his allies.
Last year, Jane Lumm ousted Stephen Rapundalo, another of his allies. And in this year's primary, Petersen ousted Tony Derezinski, another of his allies.
Kailasapathy, a stanch critic of the mayor's agenda, also defeated Eric Sturgis, who had backing from the mayor's supporters, in the August primary this year.
Kailasapathy replaces Sandi Smith, one of two Hieftje allies who are stepping down voluntarily this month. The other one stepping down is Carsten Hohnke.
Ryan J. Stanton covers government and politics for AnnArbor.com. Reach him at ryanstanton@annarbor.com or 734-623-2529. You also can follow him on Twitter or subscribe to AnnArbor.com's email newsletters.