Posted on
Thu, Apr 12, 2012 : 5:57 a.m.
MDOT inundated with negative feedback on Jackson Avenue lane reduction proposal
By Ryan J. Stanton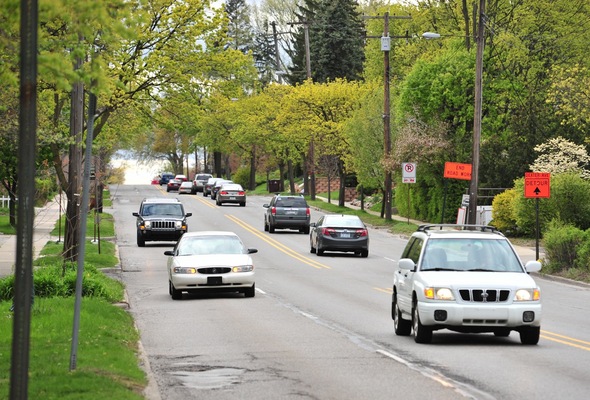 Ryan J. Stanton | AnnArbor.com
A
Michigan Department of Transportation
official says his office has been inundated with negative feedback on the
proposal to reduce Jackson Avenue to three lanes.
"The message is being received loud and clear," said Mark Sweeney, manager of MDOT's Brighton Transportation Service Center, who reports receiving dozens of emails in opposition since the Ann Arbor City Council endorsed the lane reduction last week.
The council's resolution, which passed by an 8-2 vote, asks that MDOT consider changing Jackson Avenue from four to three lanes to improve safety and possibly allow for the addition of on-street bicycle lanes when it resurfaces the road next year.
"It's a city request and I know many of the emails from the public were asking us not to abide by the city request," Sweeney said. "It does put us in an awkward position."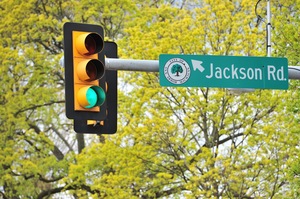 Ryan J. Stanton | AnnArbor.com
Sweeney said he's planning to reach out to Ann Arbor officials to find out if they still want to go forward with the lane reduction.
Mayor John Hieftje said he doesn't see any reason for the city to change its mind. He's still putting his faith in the city's traffic engineers who are recommending the lane reduction.
"MDOT would automatically recommend this if traffic was under 15,000 vehicles per day and then you really think very hard about it between 15,000 and 20,000," he said. "Well, this is just barely over 15,000, and even the projections in the out years don't get you much past that."
The reason Sweeney received so many emails this past week is in part because of a letter-writing campaign organized by Ann Arbor resident Karl Couyoumjian, who is president of an audio-visual company called TeL Systems on Jackson Road.
Couyoumjian said he lives off Washtenaw Avenue and uses Jackson Avenue to commute to and from his office on Jackson every day.
"It took me sending a mass email out to about 50 or 60 friends just to bring them up to speed on this project," he said. "You would not believe how many responses I got from people who had no idea this was going on and these are people who use this road every day."
Couyoumjian said it seems like the city has tried to keep the issue quiet so it could ram through the changes before the public catches on.
"It's strongly opposed by people who actually have to use that corridor to commute to and from work in the morning," he said. "For the city to say that there are no traffic backups is a joke. All it takes is going out there any weeknight around 5 o'clock. That intersection, which is is four lanes now, is backed up from Maple probably a quarter mile."
He said it's the same in the morning.
"This is truly a no-brainer in the other direction," he said. "(Three lanes) would be a mess. And what do you do when you've got commuter traffic that's behind a bus or a garbage truck?"
The section city officials are interested in converting extends from east of Maple Road to Revena Boulevard, which is where Huron Street splits into Jackson and Dexter avenues.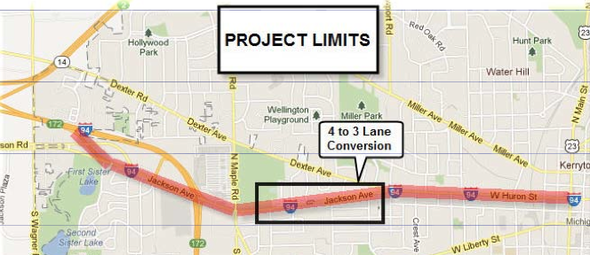 MDOT held a public meeting at Slauson Middle School in February and presented the proposed conversion from four to three lanes.
Homayoon Pirooz, head of the city's project management unit, told council members that 33 people signed the attendance sheet.
From the written comments and emails afterward, 20 members of the public were in favor of the lane conversion and five were opposed, Pirooz said before last week's meeting.
Hieftje said he hasn't seen evidence that switching from four to three lanes is unpopular with Ann Arbor residents. He thinks it will be welcomed by people on Jackson Avenue.
"I've actually heard more people who are positive about it than negative," he said. "But it's been a very small amount of feedback. I've probably heard from five or six people."
Sweeney said the conversion from four to three lanes is an idea that originated with the city. He said MDOT worked with the city on a mailing list for the February meeting.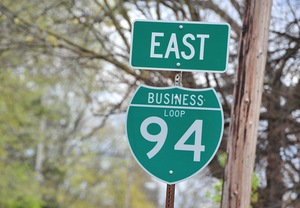 Ryan J. Stanton | AnnArbor.com
"I understand there are some differences of opinion as to who attended," he said. "We thought it was well attended and a nice diverse cross section of the area."
Couyoumjian disagrees.
"This public meeting they had was more of a neighborhood meeting," he said. "They didn't go out of their way to get people because they didn't want any dissent."
Sweeney said the resurfacing project now is in the design phase and MDOT is expecting to go out for bids in October so the project can start next year. He noted the lane conversion is supported by both the city and the Washtenaw Area Transportation Study.
Hieftje said it's an idea that's been looked at for a while.
"We were looking at this several years ago and we had computer modeling and they were showing about a minute's change in difference between Maple and down to Main Street, so all the way through," he said of the potential traffic impacts. "And then also at that time, if I recall correctly, they weren't showing offshoot into other streets."
East of Maple Road, Jackson has four narrow traffic lanes that measure about 10 feet wide each. Pirooz said that's narrower than is ideal for safety.
Pirooz said one of the advantages of switching to three-lane street is the addition of a new center turn lane, which provides for safe deceleration when making left turns. He said three-lane streets also eliminate lane weaving and unsafe driving.
Uniform speeds at three-lane streets also have traffic calming effects and research shows going from four to three lanes can reduce crashes and their severity, Pirooz said.
Couyoumjian said he doesn't buy the safety arguments.
"I'm an avid bicyclist and I look for bike lanes and areas to ride," he said. "I ride a lot, and putting bike lanes along Jackson Avenue would be lunacy and dangerous."
MDOT and city officials have said if the three-lane conversion on Jackson doesn't work out for some reason, it's relatively easy to switch back to four lanes by repainting the lines.
Ryan J. Stanton covers government and politics for AnnArbor.com. Reach him at ryanstanton@annarbor.com or 734-623-2529. You also can follow him on Twitter or subscribe to AnnArbor.com's email newsletters.