Posted on
Wed, Aug 24, 2011 : 4:36 p.m.
Officials, medical marijuana dispensaries grapple with ruling outlawing pot sales
By Juliana Keeping
Local officials and medical marijuana dispensary owners are struggling to interpret a Michigan appeals court ruling that selling pot at dispensaries is illegal.
What does it mean for the estimated two dozen or more dispensaries operating in the Ann Arbor and Ypsilanti area?
For now, confusion.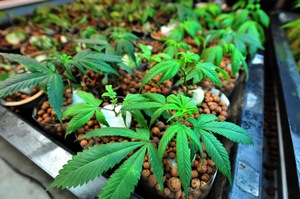 Ryan J. Stanton | AnnArbor.com
The ruling banned patient-to-patient sales at dispensaries and states the sale of marijuana is not permitted under the 2008 state law that legalized medical marijuana.
Dispensaries have side-stepped the transfer of money for marijuana by framing transactions as a donation rendered for services— not payment for pot.
Under federal law, any sale of marijuana is illegal, whether for medical use or not.
"If the patients are not getting it from a caregiver, and purchasing it from a dispensary, it's outlawed," said Stephen Postema, Ann Arbor's city attorney
The ruling strikes at the legitimacy of most medical marijuana dispensary operations, said Chuck Ream, a partner with MedMar, an Ann Arbor dispensary and a long-time medical marijuana activist.
While the preferred method of doing business is now illegal, it doesn't mean local dispensary owners will close up shop, Ream said. MedMar will remain open.
"There's been an appellate court decision that's negative to dispensaries," Ream said. "It's got to go to the Michigan Supreme Court. Our attorney says 'Don't panic.' We will continue serving our patients and that's the way it is."
Absent from the Michigan Medical Marihuana Act is any language addressing dispensaries, which have popped up all over the state.
Twenty or more clinics have opened up in the Ann Arbor and Ypsilanti area since the law legalizing medical pot went into effect in April 2009.
Ann Arbor has been working to develop a process for regulating dispensaries. Ypsilanti has already issued several licenses to medical marijuana providers under a zoning ordinance it developed late last year and early this year.
Staff and Ann Arbor City Council will need to review its new zoning and licensing ordinances in light of the ruling, Postema said.
"We'll be reviewing this matter further," he said.
Calling themselves cooperatives, health collectives or compassion centers, dispensaries are places where patients with qualifying medical conditions — like cancer, glaucoma, multiple sclerosis, chronic pain and other afflictions listed in the state act — can purchase medical marijuana.
Daryl Mines, co-owner of People's Choice Alternative Medicine in Ann Arbor, said the ruling by the appeals court would limit patients' choices on where they can get their medical marijuana. Although he's still going through the 17-page decision, he said he's concerned about how it will affect the business. "Patients, caregivers and owners should all be concerned," Mines said. "This is kind of a punch in the stomach, you could say." Like Ream, Mines said he expected the decision to be appealed to the Michigan Supreme Court. He said he's not entirely sure how the judgment will affect the city of Ann Arbor ordinance on medical marijuana since the ordinance looks to state law for guidance. If dispensaries are no longer allowed to operate, patients will still get the medicine they need — they will just have to find other means, Mines said. He said it could force patients to go back to "the way things were before the law was enacted." He said having the dispensaries open and operating legally would allow patients to get the medicine in a safe manner. "Dispensaries are things that are needed. They provide a good environment and patients know they can go there and be safe," Mines said. "The medication they're getting is good medication and they don't have to worry about anything being wrong with it."
The owners of 3rd Coast Compassion Center in Ypsilanti, which bills itself as the first dispensary in the state, said they'd release a statement Friday on the ruling.
Most dispensaries reached by AnnArbor.com on Wednesday declined to comment and said they are still reviewing the decision to see what the implications are for their businesses.
One dispensary said it received 2 dozen calls from people asking if the business was still open after the ruling was announced.
AnnArbor.com reporter Kyle Feldscher contributed to this story.
Juliana Keeping covers general assignment and health and the environment for AnnArbor.com. Reach her at julianakeeping@annarbor.com or 734-623-2528. Follow Juliana Keeping on Twitter