Posted on
Thu, Aug 25, 2011 : 6:16 p.m.
Medical marijuana dispensary owner, employees watch police raid unfold
By Juliana Keeping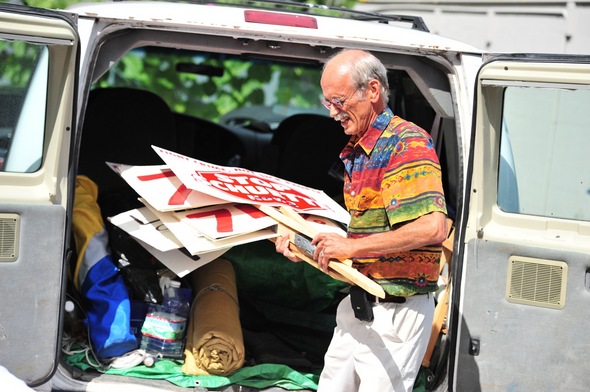 Ryan J. Stanton | AnnArbor.com
Chuck Ream sat in a green plastic chair just to the side of the MedMar medical marijuana dispensary as police raided the business inside Thursday morning in Ann Arbor.
Ream, who is a partner in the business, sat with his laptop at his feet and shoveled oatmeal mixed with seeds, nuts and peaches from a stainless steel sauce pan into his mouth.
Despite the raid, Ream looked calm with his long, thin frame stretched out in the plastic chair.
He wasn't.
The raid at Ream's clinic on Packard Street was 1 of 2 the Livingston and Washtenaw Narcotics Enforcement Team conducted Thursday in Ann Arbor, just a day after the Michigan Court of Appeals released its ruling that sales of pot at dispensaries are illegal. Police also raided the A2 Go Green Corp. at 206 S. Main St.
State police, however, said the raids were not related to the ruling and were the result of an ongoing investigation. Det. 1st Lt. Wynonia Sturdivant said the dispensaries allegedly didn't follow established guidelines.
MedMar is in a nondescript building with a yellow sign that reads "1818 Packard." The sign features a twisting vine of leaves that only roughly resemble those of the marijuana plant. Thursday morning, seven officers with the Livingston and Washtenaw Narcotics Enforcement Team, four of whom wore black masks covering their faces, went through paperwork and packed boxes.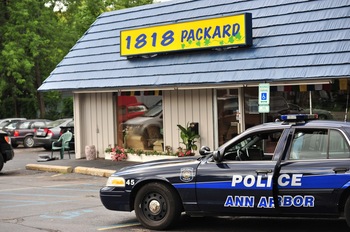 Ryan Stanton | AnnArbor.com
Ream said employees told him police arrived about 10:40 a.m. and took into custody two men, Ream called his "bud masters." A third man was taken into custody shortly afterward, Ream said.
Ream said he arrived around 11 a.m. and was told he couldn't come inside. He sat down next to the building. His fiancee had called an AnnArbor.com reporter to report the raid.
An Ann Arbor Police squad car kept Ream and others out of the lot while LAWNET officers conducted the raid.
Just before noon, Ream jumped up from his chair and hopped into a big white van, tearing out of the lot, almost hitting an unmarked silver state police vehicle.
He was off to collect protest signs from his place. A short while later, he tore back into the lot.
"What ya got there, Chuck?" asked TJ Rice, a friend of Ream's who showed up to support him. Police busted Rice's dispensary in March 2010; felony drug charges were brought against him a year later.
Ream was busy handing out a pile of signs with slogans like "Drug war is domestic terrorism" and "Let my caregiver grow." and half-muttering, half-yelling insults like "Pig, dog, anti-American, Nazi, bastards" at the police to answer.
Price took four signs. Two employees took at least two each. They started to march up and down the sidewalk as a black Ford F-150 backed up to the front door of the dispensary.
Two Ann Arbor police squad cars had rolled up in the mean time.
The yelling intensified as masked officers loaded boxes, computers, a Rubbermaid container and plastic bags into the back of the F-150.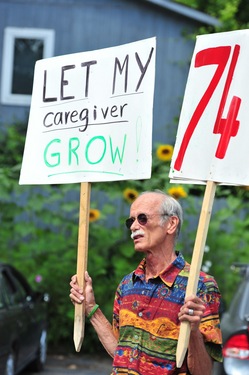 Ryan J. Stanton | AnnArbor.com
Employees of Packard Auto Repair next door watched as the raid unfolded. Cars honked and some passers-by joined in the shouting. Others asked questions of Ream and the protesters.
Ream and the others continued to shout at the officers calling them "un-American" and "bogeymen." The protesters demanded to know why some of the officers were masked and why they were taking the marijuana away.
One of them responded: "We're just following the law."
The Michigan Medical Marihuana Act says patients can grow for themselves or caregivers can grow for up to five patients. The law, in effect since April 2009, is silent on dispensaries. Many popped up anyway around the state, including at least 20 in Washtenaw County.
A state appeals court ruling this week made the transfer of money for pot between patients illegal at dispensaries. Following the ruling, State Attorney General Bill Schuette said dispensaries are not legal and can be shut down.
MedMar supplied about 800 patients as of Wednesday. It won't be supplying any now.
After the black and silver unmarked LAWNET vehicles pulled out of the lot about 12:30 p.m. Thursday with their collection from the shop, protesters staked their signs around the building and ventured into the dispensary.
Police hadn't ransacked the shop, but files, marijuana and computers were gone.
Donna Paridee, a worker and a patient at the dispensary, looked through her desk to see what was missing. A drawer full of patient identifications cards and cash was gone, she said. So was her computer. She put her hands over her eyes and worried out loud what police would be doing with the patients' information.
A woman who said she was the girlfriend of an employee who'd been taken into custody showed up. She had tears in her eyes and Paridee hugged her. The girlfriend wondered outloud if things could get any worse.
Paridee suggested she think of the people who lost their lives on 9/11.
Ream took a couple of reporters to the dispensary's back room, where the different marijuana strains had been kept on display in glass cases. A two-way mirror broadcast the growing number of people milling around in the lobby.
All of the marijuana kept in the glass cases was gone. Nine safes in a back room that had held marijuana and cash were open and empty. Computers were also gone and the security cameras were unplugged. Ream estimated police seized a few thousand dollars and up to 3 or 4 pounds of marijuana.
"Who funds this whole operation?" a reporter asked.
"That's not important now," Ream said.
Further back in the dispensary are a kitchen, offices, a security room and a room with a massage table.
"No one smokes weed in there," Ream said of the massage table room. "We offered health services, like massage."
In the kitchen, Ream opened the refrigerator to find the officers missed two pot cupcakes and a chocolate bar. All the other "medibles," foods containing marijuana, were gone, too, Ream said.
Back outside, people who witnessed the raid smoked cigarettes and looked upset.
A woman walked in who was interested in paying the $12 fee to join MedMar and purchase marijuana.
Ream told her about the raid. The woman and Paridee talked anyway at her emptied desk.
Ream said that, for now, everyone at the dispensary is out of work.
"It's done right now, but we shall return and will be back with a bang," he said.
Juliana Keeping covers general assignment and health and the environment for AnnArbor.com. Reach her at julianakeeping@annarbor.com or 734-623-2528. Follow Juliana Keeping on Twitter