Posted on
Thu, Jul 18, 2013 : 6:30 p.m.
6 Ann Arbor art fairgoers transported to hospital due to heat-related illness
By Amy Biolchini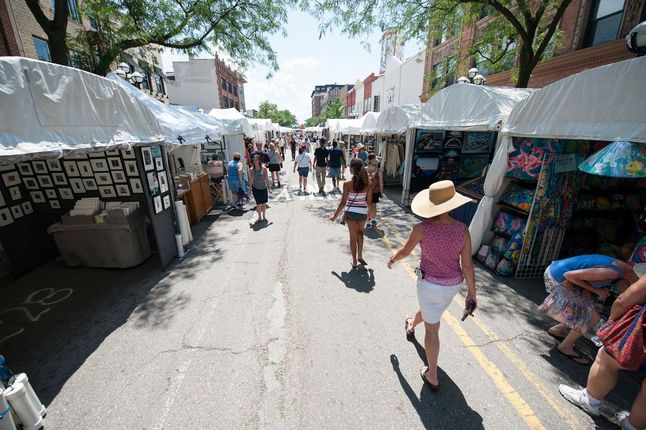 Courtney Sacco I AnnArbor.com
As a
heat wave lingers
in
Ann Arbor
this week, medics have been responding to a number of people with heat-related illnesses.
A heat advisory has been in effect since noon Tuesday. The National Weather Service upgraded the advisory to an excessive heat warning Thursday morning, which is in effect through 8 p.m. Friday.
Between Wednesday and Thursday this week, nine people had to be transported to the hospital because of heat-related illnesses. The majority of them were individuals at the Ann Arbor Art Fair, which lasts from Wednesday to Saturday.
Huron Valley Ambulance has an art fair command post at North University Avenue and Fletcher Street, said spokeswoman Joyce Williams.
"We're not seeing the number you might expect with this kind of heat because I think the messages are really getting out there about how to stay cool," Williams said.
Wednesday during the first day of the fair, medics transported three people to area hospitals in stable condition due to heat-related illnesses, Williams said.
Outside of the fair Wednesday, one person was transported to the hospital by HVA due to heat-related issues, Williams said.
As of late Thursday afternoon, heat-related illnesses caused another three people to be transported to the hospital in stable condition, Williams said.
Beyond the bounds of the art fair, two people had to be hospitalized due to heat-related sickness Thursday as well.
Temperatures during the week of art fair have historically been above the average high for the month of July, according to data collected by University of Michigan weather observers.
The heat wave is expected to break Friday night as thunderstorms are in the forecast.
Amy Biolchini covers Washtenaw County, health and environmental issues for AnnArbor.com. Reach her at (734) 623-2552, amybiolchini@annarbor.com or on Twitter.