Posted on
Mon, May 23, 2011 : 5:59 a.m.
Michigan health officials look for signs of increased melatonin consumption in drinks and food like Lazy Cakes
By Juliana Keeping
The parents of a Michigan child who took a few swigs of a melatonin-laced beverage bought at a gas station called the Michigan Poison Control Center in March.
It's the only call of its kind so far this year in this state. However, it could be a sign that the consumption of new food and beverage products containing melatonin — a hormone used to help regulate the sleep cycle — is on the rise.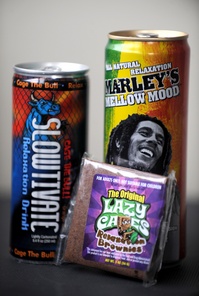 Angela J. Cesere | AnnArbor.com
Melatonin-laced drinks and brownies with names like
Marley's Mellow Mood
,
Slowtivate
, and
Lazy Cakes
have captured the attention of health and public officials in recent weeks, buoyed by a recent
New York Times article
about the unregulated products.
Last week, the Arkansas Health Department banned Lazy Cakes, brownies marketed as an herbal supplement that contain 8 milligrams of melatonin.
The Food and Drug Administration warned the manufacturer of the melatonin-containing beverage that prompted the Michigan Poison Control call — called Drank Extreme Relaxation — in January 2010 that the hormone is not an FDA-approved food additive.
A spokesperson for the FDA said last week that the matter is ongoing, declining to provide details.
But the Poison Control call involving the same beverage shows it's been recently available in Michigan.
And more like it are available around Ann Arbor, including Marley's Mellow Mood, which is manufactured in Southfield and distributed in 60 markets. Its Facebook page has over 4,000 "likes."
Records for the March call indicated Drank Extreme Relaxation contained the hormone as well as valerian root and rose hips, herbs with sedative properties, said Susan Smolinske, the director of the Children's Hospital of Michigan Poison Control Center.
Citing patient confidentiality, Smolinske said she couldn't provide any further details on that call.
Poison Control has received 100 calls involving melatonin in 2011, with 76 involving children, she said. The March call was the only one that involved a food or beverage product. About 10 callers reported drowsiness as an effect of the intake of melatonin, and the vast majority reported no symptoms.
The recommended daily dosage for melatonin ranges from 0.2 to 24 milligrams a day, she said. Most pills contain 3 milligrams of the hormone, she said.
But melatonin-containing beverages found in Ann Arbor, like Marley's Mellow Mood, don't say on nutrition labels how much melatonin is in the drink.
In a written statement, Paul Fuegner, chief marketing officer for ViVa Beverages LLC, which is manufacturing and marketing the drink in a partnership with Marley Beverage Company in Southfield, explained:
"Our special blend of natural, botanical ingredients is proprietary, so we cannot provide specific information for competitive reasons. Marley's Mellow Mood teas and sodas have been meticulously formulated with an exotic blend of all natural botanical ingredients sourced from around the world."
Juliana Keeping covers general assignment and health and the environment for AnnArbor.com. Reach her at julianakeeping@annarbor.com or 734-623-2528. Follow Juliana Keeping on Twitter.