Posted on
Mon, Oct 15, 2012 : 5:50 p.m.
Meningitis update: Five new Michigan cases identified, including three at St. Joseph Mercy hospital
By Amy Biolchini
Federal officials confirmed five new cases of fungal meningitis in Michigan Monday afternoon,bringing the total number of patients associated with the outbreak in the state to 46, including three deaths.
Three of the newly-identified cases were reported from St. Joseph Mercy Ann Arbor, hospital spokeswoman Lauren Smoker said Monday. As of Monday, 36 fungal meningitis patients are currently hospitalized at the facility.
Patients who have had symptoms of fungal meningitis at any St. Joseph Mercy Health System facilities were referred to the Ann Arbor location for treatment, hospital officials have said.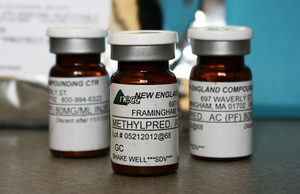 The Associated Press
Overall, St. Joseph Mercy Ann Arbor has seen 40 cases linked to fungus-contaminated steroid injections that have been blamed for the meningitis outbreak: Two patients have been discharged, one patient had a joint infected with fungus, and
one patient died
, Smoker said.
Smoker said no further information could be released about the two patients who were discharged.
A patient is still undergoing treatment at the University of Michigan Health System, officials said Monday. UMHS reported the other of its two fungal meningitis patients died last week. Family members identified that patient as Lillian Cary, 67, of Howell.
The Centers for Disease Control and Prevention is closely working with state health departments and hospitals to identify cases of fungal meningitis linked to contaminated steroids manufactured at the New England Compounding Center in Massachusetts.
Four Michigan facilities received shipments of the steroid, which is administered as an injection for joint and back pain.
Attorneys for Brenda Bansale, 46, of Howell, a patient hospitalized at St. Joseph Mercy with fungal meningitis, filed suit against the Massachusetts company that manufactured the recalled steroid linked to the outbreak, the Livingston Daily Press and Argus reported Monday.
Over the weekend, the number of confirmed cases of fungal meningitis surpassed the 200-mark. As of Monday afternoon, 214 cases - including 15 deaths - in 14 states had been identified, according to the CDC. About 14,000 people in 23 states could be at risk for fungal meningitis, according to the CDC.
While federal officials are considering stricter regulations on the compounding pharmaceutical industry, administrators at the University of Michigan Health System are reviewing their policy for where they get some of their drugs when supplies run short, Michigan Radio reported recently.
Amy Biolchini covers Washtenaw County, health and environmental issues for AnnArbor.com. Reach her at (734) 623-2552, amybiolchini@annarbor.com or on Twitter.