Posted on
Fri, Nov 4, 2011 : 10:18 a.m.
Michael Finney: From Ann Arbor to Lansing ... to Detroit?
By Paula Gardner
Michael Finney ran Ann Arbor SPARK since its inception, then moved to Lansing as Gov. Rick Snyder overhauled the Michigan Economic Development Corp.
Now, according to a report, he's a lead contender to run Detroit if the city ends up getting an emergency manager.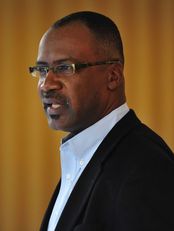 Finney is named in the
Detroit Free Press report
as one of five possible contenders if that job becomes a reality.
The reasons for the emergency manager consideration just keep building. In another Free Press story today, Mayor Dave Bing warns that the threat is real, given the city's growing deficit.
Other problems in the city keep mounting, too. Today, we're learning that bus service isn't happening due to drivers launching a protest.
Many regional and state leaders have said for some time that Detroit must function — for residents and businesses — for the rest of the state to find stability and then growth.
With the Finney possibility, it looks like the Ann Arbor area could gain another tie to the outcome in the Motor City.