Posted on
Sat, Aug 31, 2013 : 11:20 a.m.
New Michigan football student general admission line draws sparse early crowd
By Ben Freed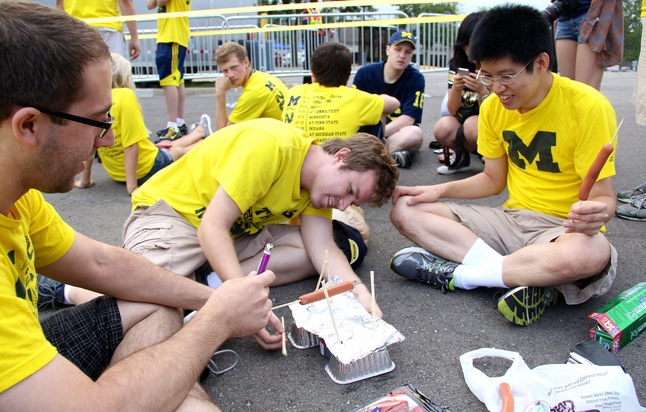 Ben Freed | AnnArbor.com
1:15 p.m. update: Students who lined up early filled approximately the first 10 rows of the student section about three hours before kickoff. Entry into the stadium was orderly, with students progressing from the line to H-O-K-E-lettered chutes, and then into the Big House. Approximately 500 students were in the chutes at 12:30 p.m. when they were allowed into the stadium. Once inside, a "Big House DJ" kept the students entertained with music, pump-up videos and contests on the field.
A small group of dedicated students staked their claim to front-row seats in the early hours of Saturday morning outside Michigan Stadium.
At 9 a.m., the 32 students in line outnumbered security personnel hired by the University of Michigan to monitor the queuing area by about a two-to-one margin.
Ben Freed | AnnArbor.com
Doug Krusell
, a junior from Canton, arrived promptly at 7 a.m. to be first in line for the inaugural game of the new
general admission policy
for student ticket holders.
"I picked up my friends at about 5:45 a.m. to be here," he said. "This is the first game back and it's awesome. It's been a long seven months without football."
Waiting in line with Krusell were three foreign students who were excited for their first football experience, but they felt slightly hoodwinked.
"We thought the game was going to start at 8 a.m." Qi Jun, a transfer student from China, said.
"Doug is a good friend, but he never told us when the game started, just when to wake up. I woke up at 5 a.m. I'm very sleepy now, but also very excited. I've never been to a football game, it's going to be amazing."
The mood in the line was tired, but relatively upbeat. Students mostly sat in small groups chatting quietly. The most commonly overheard phrase — often projected more loudly — than anything else was "thanks Dave Brandon." That was a reference to the Michigan athletic director and the decision to change ticketing for students from assigned seats to general admission.
General consensus seemed to be that the new system was more trouble than it was worth.
"I'm not convinced that this is going to solve the problem they're trying to fix," Krusell said.
"As a fan, it is definitely embarrassing when the student section isn't full, so I think something needed to be done. But with this system, the people that showed up early will just continue to show up early. The fact that they'll get rewarded for that is cool, but I'm not convinced that people who wouldn't otherwise come early will show up."
One of the main concerns students voiced about the new system was that it forced a choice between pregame tailgating and being in the running for the best seats in the Big House.
For three engineering graduate students who arrived in line at 7:30 a.m., the two options were not mutually exclusive.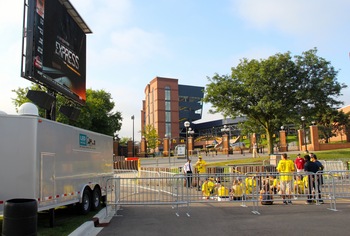 Ben Freed | AnnArbor.com
"When I heard about the general admissions, I thought it would kill tailgating, so I tried to think 'how can I bring tailgating into the queuing area for under $10?'"
Elson Liu
said as he roasted a hot dog on a skewer over his makeshift grill of a catering burner and tin foil.
"Everything we bring into the area has to be thrown away before we go into the stadium, so we had to keep it cheap. I got some leftover Sterno from a student event and after that we got the cheapest hot dogs, buns and condiments."
Much as many consider Central Michigan game to be a "tune up" opponent for the Wolverines, students were looking at the experience Saturday morning as a test run for how early they would arrive in future weeks.
"We want to use this game to see what the best time to come out will be. We're trying to scope things out," fellow engineering graduate student Ethan Stark said.
"So we got here at 7:30, and only eight people have gotten in line after us in the past hour."
Stark said he would definitely be showing up later for future games after getting a gauge on when good seats would be available.
"Sure we got a few less hours of sleep for this one, but it's whatever, school hasn't started yet," he said. "But Notre Dame and Ohio State will obviously be a whole different ballgame."
Students can line up starting at 11 a.m. for next week's Notre Dame game, which has an 8 p.m. kickoff.
Krusell is also planning on adjusting his arrival time, but he's thinking in the opposite direction.
"I will definitely be showing up early to the Notre Dame game next week," he said. "I don't want to give away my timing, but I definitely hope to be first again."
Ben Freed covers business for AnnArbor.com. You can sign up here to receive Business Review updates every week. Get in touch with Ben at 734-623-2528 or email him at benfreed@annarbor.com. Follow him on twitter @BFreedinA2