Posted on
Mon, Mar 14, 2011 : 11:30 a.m.
State's attorney general backs Eastern Michigan University student who refused to counsel gay client
By Juliana Keeping
Julea Ward was acting within her rights when she refused to counsel a gay student while studying counseling at Eastern Michigan University, Michigan's attorney general said.
Bill Schuette released a statement on his website supporting Ward's civil suit against EMU, which dismissed Ward after she refused to affirm a gay client's relationship in 2009. Ward later sued the university. She later told her supervisor at EMU she believes homosexuality is immoral and being gay is a choice and therefore could not in good conscience counsel the client.
A federal court dismissed the case in July, but Ward's lawyers have asked the U.S. Court of Appeals for the Sixth District to step in.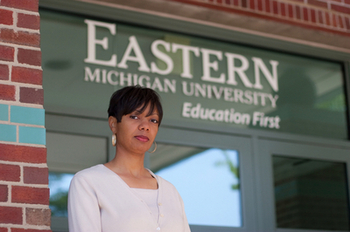 Schuette has filed a brief in that court supporting Ward, according to his website.
"The religious freedoms enshrined in our Constitution do not evaporate when you step on campus," said Schuette in the web statement. "Unless these freedoms are vigorously defended, it sets a dangerous precedent that threatens education for all students of faith. We must strongly defend and protect the rights of any citizen to ensure the rights of all citizens."
The American Civil Liberties Union of Michigan has also weighed in on the issue, but in support of EMU's decision to dismiss Ward.
"While counselors are certainly entitled to their own religious beliefs, EMU correctly took steps to prevent Ms. Ward from imposing those beliefs on her clients in the university's training program," said Daniel Mach, director of the ACLU Program on Freedom of Religion and Belief, in a press release last month. "EMU would be remiss if it allowed counseling students to discriminate against clients for any reason, including sexual orientation."
EMU responded to Schuette's in a statement on its website, saying the case is not about Ward's rights.
"This case has never been about religion or religious discrimination. It is not about homosexuality or sexual orientation. This case is about what is in the best interest of a client who is in need of counseling, and following the curricular requirements of our highly-respected and nationally-accredited counseling program, which adheres to the Code of Ethics of the American Counseling Association and the Ethical Standards of the American School Counselor Association."
Juliana Keeping is a health and environment reporter for AnnArbor.com. Reach her at julianakeeping@annarbor.com or 734-623-2528. Follow Juliana Keeping on Twitter