Posted on
Thu, Apr 19, 2012 : 5:58 a.m.
Michigan football student ticket sales spike despite rise in price
By Kellie Woodhouse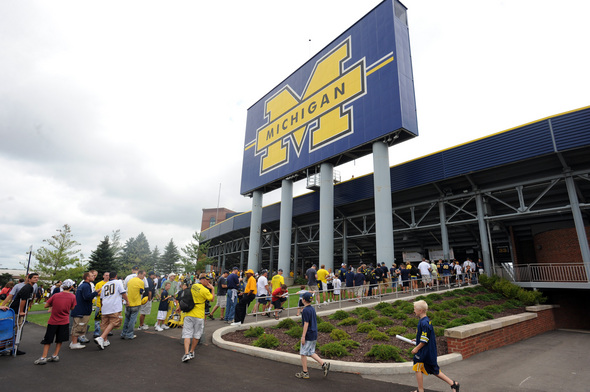 File photo
It appears that
higher football ticket prices
haven't dissuaded
University of Michigan
students from buying season tickets.
In spite of the U-M Athletic Department raising student ticket prices for the third consecutive year, the school sold 15,519 season ticket bundles to students this year, up nearly 600 tickets from last year.
Those bundles include six home games at an average of $32.50 per game, a $2.50 bump from last year. In 2010 student season ticket holders paid about $28 per game.
Season ticket rates for non-students also increased by $5 per game and now cost $390 for six games.
U-M called the rate increase moderate and said it's part of an effort to match prices at other institutions. Michigan State University's student tickets are $22 per game next year. Student tickets at Ohio State University haven't gone on sale yet but were $34 per game last season.
The 4 percent uptick in student ticket sales isn't a surprise, given the Wolverine's 11-2 season and Sugar Bowl win last year, said David Ablauf, associate athletic director of public and media relations.
"Anytime you're coming off a season where you're very successful ... there's always interest from your students," he said.
Student ticket sales for away games also increased this year. Last year at this time U-M sold 178 tickets for an away game against MSU, the most tickets purchased by students for any away game that year.
This year 448 students purchased tickets to the multimillion dollar season opener against defending national champion Alabama, 424 students bought tickets to the Notre Dame game and another 263 students purchased tickets to watch the Wolverines play the Buckeyes at Ohio State University.
Ablauf said student ticket purchases to away games fluctuate year to year, depending on what schools U-M is playing against and what time of year games occur.
Meanwhile the price to park at nearby Pioneer High School on a game day is increasing $10 next year, bringing the rate up to $50 per car per day.
Entering freshmen, transfer and graduate students can purchase student tickets beginning June 6. For non-students, individual tickets and ticket packs go on sale in July.
Kellie Woodhouse covers higher education for AnnArbor.com. Reach her at kelliewoodhouse@annarbor.com or 734-623-4602 and follow her on twitter.