Posted on
Wed, Sep 15, 2010 : 5:51 p.m.
Michigan's medical marijuana statute needs clarification, appeals court judge says
By Ryan J. Stanton
(This story has been updated to further clarify that the judge's opinion is the concurring opinion of a single judge and not the entire appeals court.)
The murky state laws regulating medical marijuana in Michigan need some serious clarification, a Michigan appeals court judge said today in a 30-page opinion.
Judge Peter O'Connell said the state statute is so confusing that until the Michigan Supreme Court provides a final comprehensive interpretation, it would be prudent for all Michigan citizens to "avoid all use of marijuana if they do not wish to risk violating state law."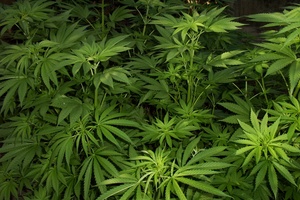 "I again issue a stern warning to all: please do not attempt to interpret this act on your own," O'Connell wrote in a uniquely verbose opinion. "Reading this act is similar to participating in the Triwizard Tournament described in Harry Potter and the Goblet of Fire: the maze that is this statute is so complex that the final result will only be known once the Supreme Court has had an opportunity to review and remove the haze from this act."
O'Connell's opinion stems from a medical marijuana case in Oakland County. He said the state law allowing medical marijuana was "inartfully drafted" and some portions clash with other Michigan laws. He also said there's a need for clear rules for doctors, people who want to use marijuana and clinics that want to dispense it.
Medical marijuana was approved by Michigan voters in 2008. Many municipalities, including Ann Arbor, now are working on local zoning regulations for dispensaries that are sprouting.
City Attorney Stephen Postema said today he isn't yet sure how the judge's opinion will impact efforts under way to write a local ordinance regulating medical marijuana dispensaries in Ann Arbor. At the very least, he said, it's confirmation that "this is a totally messed up situation."
"I have to review the case further, but I don't get the sense that it directly addresses the issue of zoning or dispensaries," Postema said. "But the courts seem to recognize that there were problems in the medical marijuana statute that needed to be looked at further, and many communities are looking at those things."
Postema noted that O'Connell's opinion is that of a single judge and is not the prevailing view of the entire appeals court. O'Connell's is only a "concurring" opinion, agreeing with the result in the case in Oakland County — reinstatement of drug charges against two people using marijuana on the advice of a doctor without proper registration — but using different reasoning and arguments than the other two judges on the three-judge panel.
Judge Robert Turner, a veteran of many years on the bench, previously stated that Michigan's medical marijuana act is "one of the worst pieces of legislation I have ever seen in my life."
"In interpreting this act, Judge Turner assumed that the sole purpose of it was to set forth the rules and regulations for the use of medical marijuana in Michigan," O'Connell said in today's opinion, "but it is becoming increasingly clear that the act is being used as a subterfuge to legalize marijuana in Michigan. It is well crafted in its obfuscations, ambiguous language, and confusingly overlapping sections."
Ryan J. Stanton covers government and politics for AnnArbor.com. Reach him at ryanstanton@annarbor.com or 734-623-2529.