Posted on
Wed, Nov 7, 2012 : 11:35 a.m.
County millage roundup: Police taxes fail and fire millages succeed
By Tom Perkins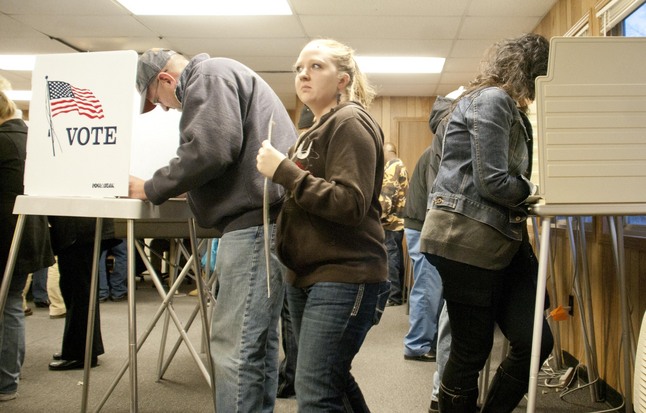 Tom Perkins | For AnnArbor.com
Voters in approved seven of 11 proposed tax increases in communities across Washtenaw County Tuesday. The four rejected included taxes to provide police protection to Bridgewater and Augusta townships, a public art tax in Ann Arbor and a road tax in Bridgewater Township.
In the City of Ann Arbor, a 1.1 mill park maintenance and capital improvement tax passed by a margin of two to one, while a 0.1-mill tax to fund public art was defeated.
One millage was tied to a proposal to consolidate Willow Run Community Schools and Ypsilanti Public Schools that voters approved. The 18-mill operations tax was approved and will be levied in the new district.
Voters also renewed a Lincoln Consolidated Schools 18-mill operations tax, as well as a tax to continue supporting its senior center, community education and the youth recreation program.
Bridgewater and Augusta Township police millages
Voters rejected a proposal to contract for police services in Augusta Township and renew services in Bridgewater Township.
Augusta Township voters rejected a 1.7 mill tax to contract for two full time deputies with the Washtenaw County Sheriff's Department. According to unofficial results from the Washtenaw County Clerk's Office, the proposal was defeated 1,877 to 1,335, or 58.44 to 41.56 percent.
The tax would have been levied from 2012 to 2015 and was expected to generate approximately $326,000 in the first year.
The township has been without police coverage since 2010 after voters rejected several proposals to renew their expiring millage.
The Sheriff's Office and the Michigan State Police have both responded to emergency calls in Augusta Township throughout the last two years, though there are no deputies or troopers dedicated to the area.
Phyllis Polzin was one of the Augusta Township residents who voted to renew the millages the last two times it went before voters. After she voted at the Augusta Township Hall on Tuesday, she said she supported the millage again and questioned why anyone would vote against police protection.
"We live in the country where everyone is supposedly safe, but we're not," said Polzin, who recently had her home burglarized. "We need someone here. I don't even know where the nearest Michigan State Police post is."
The usually divided Augusta Township Board of Trustees fully supported the millage. The township will mostly rely on calls for service from the state police post in Brighton as it has for the last two years.
"Nothing really changes," said Sheriff Jerry Clayton. "We will do what we can from a countywide level but we've said since day one that what we can do is at a minimal level."
He said he wasn't surprised by the results.
"From our standpoint, we did what we were supposed to do to provide education to the voters and they decided, so it's time to move forward," Clayton said.
In Bridgewater Township, voters also rejected a renewal of a 1.5-mill tax for police service by a margin of 578 to 344. That tax would have been levied for two years starting in 2012 and generated $124,877 in the first year.
It disrupts a Sheriff's department plan with Bridgewater, Lodi and Manchester Townships to provide 24-7 coverage to the three townships. Clayton said the department is working on a new plan to continue full coverage for Lodi and Manchester, but said the MSP will now mostly respond to Bridgewater calls.
"They will not have direct service from the Sheriff's Office," he said.
Bridgewater Township road tax
Residents in Bridgewater Township also rejected a 1-mill road tax by a nearly similar margin of 525 to 321.
The tax would have been levied between 2012 and 2015 and was projected to generate $83,251 in its first year to be put toward road improvements.
Chelsea Area Fire Authority millage
Voters under the Chelsea Area Fire Authority approved a 1.5-mill tax renewal by a margin of 5,049 to 3,031. Those funds will be used to keep the authority operating.
The tax will be levied for five years from 2014 to 2018 and is projected to generate $1.26 million in its first year. The millage rate is the same as it has been for the previous four years.
The authority serves Lima Township, Lyndon Township, Sylvan Township and the City of Chelsea.
Rod Anderson, chairman of the Chelsea Area Fire Authority Board, said the authority didn't think it was the right time to ask for an increase despite the fact the authority is receiving fewer revenues due to falling property values. He said the authority is continuing to provide strong service despite the conditions.
"We didn't think in today's environment that was the right thing to do," Anderson said. "Voters looked at the millage and in spite of everything else going on; in Sylvan there are real issues with their millages, but even there they realized they have something here that they are getting their value for."
A narrow majority of voters in Sylvan Township voted against renewing the authority's millage four years ago, and the township faces challenges because of a high water millage.
This time Sylvan Township approved the measure 1,070 to 749. The City of Chelsea approved the measure by a nearly two to one margin.
Dexter Township fire substation millage
Voters in Dexter Township narrowly approved a 1-mill tax to establish a permanent fire substation. The measure was approved by 1,788 to 1,677 votes, according to unofficial results from the Washtenaw County Clerk's Office.
The tax will be levied for seven years from 2012 to 2018 and is expected to generate $287,000 in the first year.
Scio Township farmland And open space land preservation millage
Scio Township residents overwhelmingly approved a land preservation millage 7,228 to 3,378, or 68.16 to 31.84 percent.
The .4942 mill tax will be levied over 10 years from 2014 through 2023 and is projected to raise $631,00 in the first year.
It will allow the township to purchase land and take advantage of matching funds from the City of Ann Arbor "in order to preserve farmland, open space, wildlife habitat, scenic views, protect drinking water sources and the water quality of rivers and streams, and provide new parks, recreational opportunities and trails."
Tom Perkins is a freelance reporter for AnnArbor.com. To contact the news desk, call 734-623-2530.