Posted on
Tue, Mar 2, 2010 : 6 a.m.
Prosecutors admit mistake during 2003 conviction of Matthew Freeman, court documents say
By Lee Higgins
An error by a prosecutor during a 2003 hearing appears to have contributed to the latest criminal charge against a Pittsfield Township man convicted of a sex offense, court documents say.
That's because Matthew Freeman, 23, erroneously pleaded guilty to a sex offense involving force or coercion for having sex with his underage high school girlfriend.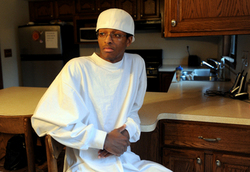 Last fall, Freeman was charged with a school safety zone residency violation that accuses him of living within 1,000 feet of Carpenter Elementary School. Investigators say it's illegal for him to live that close to a school because he was convicted of fourth-degree criminal sexual conduct involving force or coercion. With a few exceptions, sex offenders are not permitted to live near schools.
In 2003, Freeman admitted to having sex with his high school girlfriend when he was 17 and she was 15. In Michigan, the legal age of consent is 16.
Washtenaw County prosecutors and attorney David Goldstein, who is representing Freeman, agree no force or coercion was involved, recent court filings say.
Goldstein recently filed a "motion to correct the record," which 22nd Circuit Judge Donald Shelton is scheduled to hear this afternoon.
The motion asks that the record be corrected to "accurately reflect" that Freeman pleaded guilty to the section of the fourth-degree criminal sexual conduct statute relating to "statutory criminal sexual conduct, that is - sexual relations with a female under the age of 16."
Washtenaw County Assistant Prosecutor Mark Kneisel, who works in the office's appellate division, filed an answer to that motion Thursday, acknowledging errors were made.
On July 29, 2003, when the prosecutor was specifying the statute to which Freeman would be pleading, she said, "the statutory citation…uhh…PACC code is 750.520E1A," the answer says.
She mistakenly used the Michigan Prosecuting Attorneys Coordinating Council code for fourth-degree criminal sexual conduct involving force or coercion.
According to the answer, the correct PACC code would have been 750.520E1A-A, which is criminal sexual conduct fourth-degree (age of victim), the answer says.
No one corrected her mistake, including Freeman's public defender and Judge Shelton, who presided over the hearing.
Various court documents subsequently listed Freeman's conviction as "entailing force or coercion," the answer says.
The mistake may not have been caught because the Michigan Compiled Laws number for criminal sexual conduct fourth-degree is 750.520e(1)(a). Prosecutors use PACC codes and MCL numbers during court proceedings.
The mistake had "consequences" for Freeman, making him subject to school safety zone residency requirements, the answer says.
Had the mistake not been made, Freeman wouldn't have been prohibited from living near a school, according to the Michigan Sex Offender Registry Web site.
According to the site, he would have been exempt because at the time of the offense, he was "17 years of age or older but less than 21 years of age" and "not more than five years older than the victim."
Shelton could rule on the motion today, take it under advisement and issue a ruling at a later time or issue a written opinion. If the judge rules in favor of the motion, the recent charge against Freeman must be dismissed.
Freeman must remain on the registry until Aug. 17, 2028.
He is scheduled to return to court on the latest charge March 12. If convicted, he faces up to a year in jail.
Lee Higgins covers police and courts for AnnArbor.com. He can be reached by phone at (734) 623-2527 or email at leehiggins@annarbor.com.