Posted on
Tue, Mar 2, 2010 : 11:04 a.m.
Moravian project passes first reading at Ann Arbor City Council
By Ryan J. Stanton
The developer of the proposed Moravian apartment project appeared before the Ann Arbor City Council Monday night and said it's been a long two years trying to get his project approved.
Council members gave the project a ceremonial passing at first reading Monday but acknowledged they look forward to hearing more from both sides of the debate at second reading.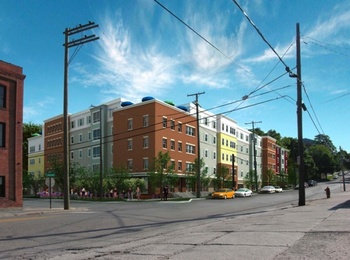 The city's Planning Commission, after much debate, gave the project its blessing in a 7-1 vote last month. The project also has a letter of recommendation from the city's planning staff and support from more than 100 residents, businesses and community leaders who say it'll boost the local economy and increase the vitality of downtown.
The site plan calls for for construction of a 74,370-square foot, four-story building over one level of parking - for a total of five stories containing 62 apartment units, with 150 bedrooms and 90 off-street parking spaces. Twelve of the 62 units - or 19 percent - would be affordable to lower-income households.
"I recognize the challenge that all of you face on digesting a tremendous amount of information in a relatively short period of time for what's a very complex project," developer Jeff Helminski told council members.
"I would encourage you to look to the city's staff, its professional hired experts in areas of planning and zoning," he said. "And in particular, look to their report. That report contains a tremendous amount of accurate information that I think will dispel some inaccurate information that's been floated around."
Council Member Tony Derezinski, D-2nd Ward, said first readings usually are reserved for introducing a project. Having a first reading for the Moravian, he said, was "kind of like introducing Methuselah."
"It's been around for a long time," he said. "This process has gone on a substantial length of time, and the staff has put in a lot of time on it."
Helminski said city staff reports confirm the Moravian - though it is a Planned Unit Development that deviates from the city's existing zoning - is consistent with the city's master plan.
An approved PUD zoning district and site plan would allow the developer to move forward with a five-story apartment complex on 0.85 acres at 201 E. Madison St., just south of downtown Ann Arbor.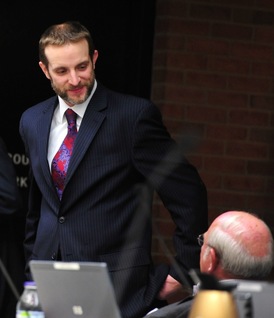 Ryan J. Stanton | AnnArbor.com
Helminski is asking the city to allow him to rezone the property from R4C (multiple-family residential) and M1 (limited industrial) and combine eight existing parcels into one PUD zoning district that calls for multiple-family residential use and so-called "live/work spaces."
Helminski said Monday night he and the city's staff are confident the project meets the city's standards for granting a PUD, which requires a developer to demonstrate a certain level of public benefit from a project.
"We're also very confident in our ability to bring this project to fruition from a financial standpoint, even in these economic times, in this current lending environment," Helminski said. "We look forward to doing that as soon as we're permitted to do so."
As he has done for the last two years, Helminski continued to fend off criticisms from Germantown neighborhood residents who don't want the Moravian project developed near their houses, some of them century-old.
Beverly Strassmann, a member of the Germantown Neighborhood Association, spoke against the project. She reminded council members several apartment complex projects have been approved by the City Council in the last decade that aren't yet built.
She also said reports of a high percentage of vacancies in student-oriented apartment complexes around the downtown suggests there is no need for the kind of project being proposed.
Kyle Mazurek, vice president of government affairs for the Ann Arbor Area Chamber of Commerce, spoke in favor of the project - both as a young professional and on behalf of the chamber.
Mazurek said the project increases density near downtown, remediates a contaminated brownfield site, allows for removal of blighted buildings, contributes critical property tax revenue, enhances housing opportunities for young professionals and benefits downtown area businesses.
Ann Arbor resident Kim Kachadoorian, a long-time critic of the project, said the revised plan still is out of scale with the neighborhood.
"This project is huge," she said. "Walk by the outside of the city hall and imagine this in your neighborhood, right up to the sidewalk."
Council Member Mike Anglin, D-5th Ward, said he walked through the neighborhood prior to Monday's meeting to get a sense of some of the concerns residents have, including those about affordability.
Ryan J. Stanton | AnnArbor.com
Anglin said he found existing studio apartments in some parts of the neighborhood going for $760 a month, including utilities. He concluded the existing housing stock already was affordable, and building a new structure could end up changing that.
Helminski countered by pointing out the project offers a significant affordable housing component.
"We have efficiency units in ours that will be restricted as affordable," he said. "The maximum possible rent that could be charged for those would be $690 a month, inclusive of utilities. So the comment that Council Member Anglin brought up highlights the additional affordability that our project would present for a new product, much more energy efficient than the one that might be on the market today. And our project will have those units guaranteed in perpetuity - they can never be lost."
Council Member Carsten Hohnke, D-5th Ward, said arguments that the project fits the city's vision for downtown don't carry much weight with him because it's not downtown.
"From my point of view, it's a pretty clear line for me," he said. "I think we have a downtown boundary that runs along William Street and therefore does not include the neighborhood that's under discussion."
Hohnke also questioned whether the public benefits being proposed by the project meet the city's standards for a PUD. He said he had "very significant concerns" about the project moving forward.
Council Member Stephen Kunselman, D-3rd Ward, said the city already is littered with approved site plans for projects not yet constructed. He said the Moravian won't be getting his support at second reading.
"For a project to take this long, there has to be something wrong with it," he said, adding it's out of character with the neighborhood and makes him fearful of what could be "built up the hill" in the years ahead.
Ryan J. Stanton covers government for AnnArbor.com. Reach him at ryanstanton@annarbor.com or 734-623-2529.