Posted on
Mon, May 21, 2012 : 5:57 a.m.
1,000 trees on the way for Ann Arbor's stormwater diversion plan
By Amy Biolchini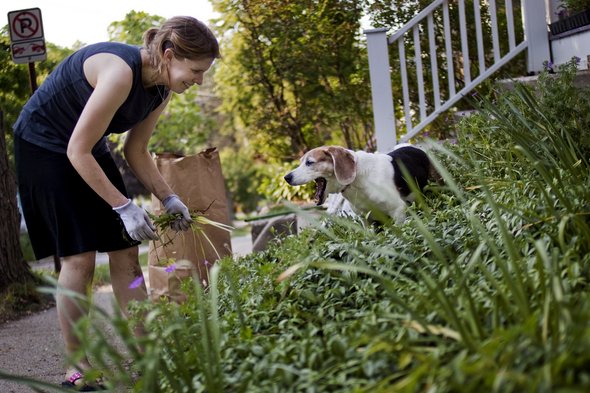 Jeffrey Smith | AnnArbor.com
About 1,000 additional trees will be planted along Ann Arbor streets this fall and spring as part of a continuing effort by
Ann Arbor
and the
Washtenaw County Drain Office
to divert runoff in the city from loading the
Huron River watershed
with phosphorous and other pollutants.
The city has almost finished planting 1,200 trees from last fall's tree allocation, said Kerry Gray, the city's urban forestry and natural resource planning coordinator.
"Trees provide a really important stormwater function," Gray said. "When it rains, tree leaves help slow down runoff into the system."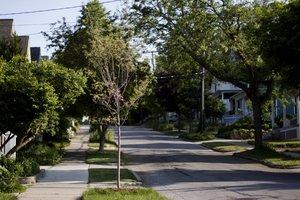 Jeffrey Smith | AnnArbor.com
Harry Sheehan
, environmental manager for the Washtenaw County Water Resources Commissioner, said the tree project is part of an annual undertaking by the city.
"We will be providing financing and the city will be taking charge of the implementation," said Janis Bobrin, Washtenaw County Water Resources Commissioner.
The tree planting project is separate from and in addition to the planned tree plantings set for this fall for areas in the Malletts Creek watershed that have been recently restored, Bobrin said.
A "favorable funding opportunity" brought a loan from the
Michigan Department of Environmental Quality
's state revolving fund for about $315,000, Sheehan said in an email to AnnArbor.com.
The loan will be paid back over a 20-year period at an interest rate of 2.5 percent, and will be financed through the drainage district, Sheehan said.
The project will not increase the existing annual storm water fee.
Because most of local tributaries to the Huron River are within the highly urbanized areas of Ann Arbor, there's a large amount of runoff that enters the river.
Officials say the trees will slow and reduce the runoff of nutrients into the creeks. Once fully grown, each tree is estimated to keep from1,500 to 1,900 gallons of storm water from entering the watershed per year.
Trees with trunks about 1 3/4 inches in diameter will be added along streets, Gray said. Planting will begin this fall and continue through next summer. Gray said the areas that will be planted first have yet to be determined.
Each of the following drainage districts is slated to receive a portion of the total project cost in trees:
Malletts Creek: $135,000
Traver Creek: $80,000
Allen Creek: $70,000
Swift Run: $30,000
Amy Biolchini covers Washtenaw County, health and environmental issues for AnnArbor.com. Reach her at (734) 623-2552, amybiolchini@annarbor.com or on Twitter.