Posted on
Sat, Feb 9, 2013 : 12:50 p.m.
Ann Arbor VA Hospital welcoming special guests to celebrate National Salute to Veterans
By Ryan J. Stanton
Country musician Aaron Tippin is expected to bring his guitar when he visits the VA Hospital in Ann Arbor Sunday morning ahead of his sold-out concert at Eastern Michigan University.
Strumming a few tunes for veterans, Tippin will help the VA Ann Arbor Healthcare System kick off a week-long series of events to celebrate the National Salute to Veterans Week.
At different times on Monday, special guests visiting the hospital will include U.S. Rep. Tim Walberg, Lt. Gov. Brian Calley and the University of Michigan baseball team.
On Wednesday, the U-M track and field team plans to visit. And on Friday, Coach Mike Hart and the Eastern Michigan University football team will visit.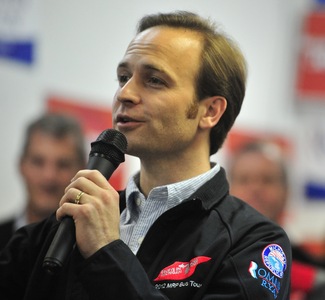 Ryan J. Stanton | AnnArbor.com file photo
Miss Michigan 2012
Angela Venditti
is expected to stop through Friday afternoon.
"We really try to make it a special week," said Katy Nustad, executive assistant to the director of the VA Ann Arbor Healthcare System.
Between its main hospital at 2215 Fuller Road in Ann Arbor and three other community-based outpatient clinics — in Flint, Toledo and Jackson — the system saw nearly 57,000 veteran patients in the fiscal year that ended Sept. 30.
Visits totaled 504,542, up 11 percent.
Nustad said the number of veterans coming through the doors grew another 7 percent in the first quarter of this fiscal year, so the growth hasn't stopped.
"We're really doing a lot of outreach, so perhaps that's helping," said Derek Atkinson, public affairs officer for the VA. "We do a lot of events when units get back from deployment. We actually go out to where they're at and get them signed up for benefits."
The National Salute to Veterans celebration happens every year during the week of Valentine's Day and every VA medical center throughout the country participates.
"It's an opportunity to invite folks into our medical centers to spend some time with our veterans and learn a little bit about what we do and the health care we provide," Atkinson said.
"And we also try to promote volunteerism within the VA at the same time," he added. "It's a big week for outreach and just for letting folks know what we do."
Atkinson said the VA Ann Arbor Healthcare System has a nearly 1,000 volunteers that perform all kinds of tasks ranging from taking veterans to their appointments to serving on committees.
"We're inviting folks into the facility to come and visit the veterans, but there's also a lot of veterans who don't know about us and don't know we're here for them," Atkinson said, encouraging veterans to call 734-769-7100 to get enrolled in VA health care benefits.
Due to the growing number of veterans coming in for care and rising staffing levels to meet those demands, VA officials said in 2011 they were planning a new parking garage next to the hospital on Fuller Road. The hospital had 2,163 employees at the time, counting full-time and part-time.
"It is still in the works," Nustad said of the parking garage on Friday. "I do know that it is in process. Our veterans need to park on site. We need to make it as easy for them as we can."
Ryan J. Stanton covers government and politics for AnnArbor.com. Reach him at ryanstanton@annarbor.com or 734-623-2529. You also can follow him on Twitter or subscribe to AnnArbor.com's email newsletters.