New Ann Arbor fire chief has task of figuring out how to maintain services with fewer firefighters
Posted on Tue, Jun 7, 2011 : 6:09 a.m.
After more than 25 years with the Ann Arbor Fire Department, Chuck Hubbard is now the city's new fire chief after being promoted to the position Monday night.
The Ann Arbor City Council voted unanimously to make Hubbard, one of two assistant chiefs in the department, head of the city's fire services.
Hubbard will report to Police Chief Barnett Jones, the city's safety services administrator, who served as interim fire chief after Dominick Lanza resigned from the post in March.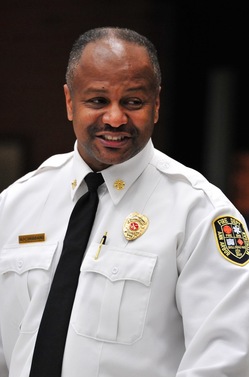 Ryan J. Stanton | AnnArbor.com
"I'm smiling because this is a welcome event to take place," said Jones, who has been lobbying for a new full-time fire chief.
Jones said Hubbard understands Ann Arbor and has extensive experience as a firefighter, driver-operator, lieutenant, battalion chief and assistant chief. He said Hubbard "wants to be a part of doing something different because the times are different."
"I guess I'm standing here proud to say that the city administrator is backing me and my ability to recognize that Chuck has all the talents that we need," Jones told council members.
Jones said it's notable that the city was able to promote someone to fire chief from within the department. It's the first time that's happened for at least two decades, he said.
The city has struggled to keep the fire chief position filled in recent years. Counting nine chiefs Ann Arbor has employed in the last decade, the firefighters union believes the department has suffered from a lack of consistent leadership.
The union could not be reached for comment Monday night.
The last two fire chiefs to resign both cited strong pressure from the city's administration to make cuts as a reason for leaving, and both left citing concerns about the staffing levels.
Hubbard told council members he's looking forward to working with them to bridge the gap between the fire department and the city's leadership. Relations between the two sides have been poor in recent years with the fire department's budget continually under attack.
"We do have some good people across the street who really want to do a good job and they really care, and I'm going to bring that out and show you that," Hubbard said.
Hubbard's new salary was not immediately available. According to the council resolution approving his promotion, he holds a business management degree from Eastern Michigan University.
The fire department will see its ranks decrease from 89 to 82 full-time career firefighters July 1 after the latest round of budget cuts.
That leaves the city with 0.72 firefighters per 1,000 residents. According to the National Fire Protection Association, the average full-time career fire department in the United States has about 1.72 firefighters per 1,000 residents.
Hubbard said he's awaiting the results of an ongoing study of fire department staffing levels by the International City/County Management Association. Once that report is back, he said he'll be sitting down with the department's senior officers to discuss the department's next steps.
The city began a new practice in mid-February of closing one of the city's five fire stations on a rotating basis to curtail overtime costs as needed. Each month a different station is assigned to be closed and property owners receive service from the nearest open fire station.
Hubbard acknowledged in an interview with AnnArbor.com he's considering an alternative plan to shut down one of the downtown fire trucks as needed — instead of continuing rolling station closures, which the union claims has increased response times.
"What we're going to try to do is better manage and deploy our units," Hubbard said. "Each one of our substations has one truck. Downtown has two plus a battalion chief. And when you've got two trucks in one station and everybody else has one, it's kind of a no-brainer to think, 'Why are we closing a station when we can just take one of these trucks out?'"
Hubbard said taking one of the downtown fire trucks out of service wouldn't be a permanent move — it would only happen if daily staffing levels fall below 19 firefighters.
He said the department tries to staff 25 firefighters on any given shift. In order to keep all six trucks up and running, it needs 19 firefighters on duty.
"So as long we have less than seven people off, we're good," he said. "But once we get below that 19, then we come up short and we have to figure out what's going to be the best and the safest way to do things."
The two downtown trucks are Rescue One and Tower One. Hubbard said the truck that might be taken out of service as needed is Tower One, one of two ladder trucks in the city.
The other ladder truck is stationed at North Campus.
"Keep in mind, the truck is more of a defensive-type vehicle and we have very few defensive-type fires," Hubbard said.
The firefighters union has raised concerns that taking the downtown ladder truck out of service could be dangerous.
Hubbard agreed it's not an ideal situation.
"No matter where you close something, you could have bad news — there's just no good answer to it. It's just a no-win situation," he said. "We have to be careful how we do that. Nobody wants to close any stations or any trucks, but if we get to the situation where we have to, it's not a permanent thing — it's just on a need-be basis."