Posted on
Thu, Jan 12, 2012 : 5:59 a.m.
New audit report: City of Ann Arbor finishes last budget year with $950K surplus in general fund
By Ryan J. Stanton
The city of Ann Arbor was planning to dip $1.5 million into its general fund cash reserves to get through the last budget year, but it ended up finishing with a surplus instead.
The city's newly released audit for 2010-11 shows general fund expenditures totaled $75.8 million while revenue came in at $76.7 million.
That's a surplus of $949,557, and $127,667 was put into the fund balance.
"The city's general fund (cash reserves) increased by $127,000, and that's significant because the budget had planned on a use of fund balance," City Administrator Steve Powers reported to members of the Ann Arbor City Council this week.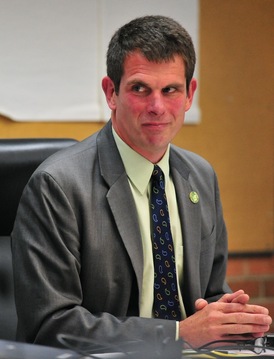 Ryan J. Stanton | AnnArbor.com
"So it's $1.6 million better than budget," said Council Member
Jane Lumm
, an Independent who represents the 2nd Ward. "Way to go."
The 157-page audit shows general fund property tax revenues came in $83,918 higher than expected for the year that ended June 30.
But the major budget gains didn't come on the revenue side.
The city actually took in $2.26 million less in general fund revenue than it planned. The audit shows a line item labeled "miscellaneous" revenue came up significantly shorter than expected, with an actual total of $835,982 when $3.6 million was budgeted.
City officials couldn't be reached to explain that shortfall or why the city spent $2.35 million less than budgeted in the general fund.
More than $612,000 of the savings on the expenditure side — meaning spending was less than budget — came from parks and recreation, more than $350,000 was in the police department, nearly $480,000 was in the building department, more than $122,000 was in community development, and about $14,000 was in the fire department.
Alan Panter, a certified public accountant from Abraham & Gaffney P.C., offered an overview of the audit during a recent council audit committee meeting. No one specific reason caused the increase to fund balance, according to minutes from that meeting.
The city's assets exceeded liabilities by $993.8 million at the close of the fiscal year, according to the audit, which notes the city had $72 million in unrestricted assets as of June 30 that could be used to meet the city's ongoing obligations to citizens and creditors.
The general fund had a $13.6 million fund balance and the street millage fund had a $29.2 million fund balance at the end of the year.
Total property tax revenues came in at $78.6 million, which was down $3.4 million — or 4.2 percent — from $82.1 million the year before, though mostly on par with projections.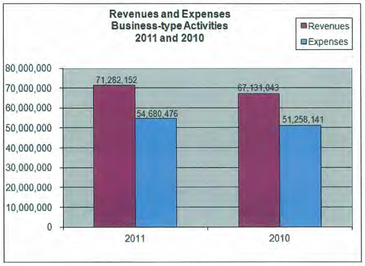 The audit examines the city's governmental and business-type activities separately.
The latter includes areas such as water, sewer, and solid waste, as well as the city's airport and golf courses, while governmental activities include areas such as public safety, public works, community and economic development, parks and pubic transit.
Large surpluses were reported in the city's business-type activities.
The water supply system had $21.2 million in revenue from charges for service, while expenses totaled $17.3 million.
The sewage disposal system had $21.7 million in revenue and $14.4 million in expenses. The stormwater system had $7.5 million in revenue and $3.9 million in expenses.
Meanwhile, the city's airport had $847,728 in revenue and expenses of $744,629 for a surplus of $103,099.
However, a large deficit was reported in solid waste, where revenues are shown at $3.1 million while expenses totaled $13.7 million.
The city's golf courses had operating revenues of $1.17 million and expenses of $1.65 million for a deficit of nearly $480,000.
Overall revenue for governmental activities and business-type activities totaled $190.4 million — up from $184.2 million the year before, mostly due to an increase in charges for services.
Expenses for governmental activities and business-type activities totaled $160.4 million — up from $154.6 million the year before — leaving a total $30 million surplus.
Charges for services in governmental activities increased 18.6 percent compared to nearly flat growth the year before. The audit attributes that partly to an increase in "fines and forfeits for parking revenue."
For business-type activities, revenues increased $4.2 million or 6.2 percent primarily due to increases in charges for solid waste and stormwater services. Part of the solid waste revenue increase came from franchise fees related to commercial recycling.
The audit shows the city had total bonded debt of $231 million, $158.6 million of which is backed by the full faith and credit of the city.
The city's total outstanding debt — reported at $246.8 million — was down by $8.7 million or 3.4 percent from the year before. The city's debt limit is $549.5 million.
Long-term liabilities decreased due to repayment of existing bond issues.
The audit also notes the city's pension system was 88 percent funded as of June 30. The actuarial accrued liability for benefits was $481.3 million, while the actuarial value of assets was $423.7 million, resulting in an unfunded liability of $57.6 million.
Investment income decreased 41.4 percent in 2010-11, after decreasing 45.4 percent the previous year. That's attributed to lower interest rates and lower investable balances.
Expenses for public safety decreased by $960,952 — from $43 million to $42 million — due to decreased wages and benefits resulting from reductions in police and fire staffing.
The next fiscal year for the city begins July 1 and the council is expected to work in the coming months to stave off planned cuts in the police and fire departments.
Lumm asked at this week's council meeting if Tom Crawford, the city's chief financial officer, could offer a forecast for the current fiscal year, which is halfway complete.
"Actually, I'm in the middle of working on that," Crawford said. "We're getting ready for some discussions with council on the budget."
Crawford said the city is "seeing some things come in better than we had originally planned," but he'll have a more detailed report soon.
Ryan J. Stanton covers government and politics for AnnArbor.com. Reach him at ryanstanton@annarbor.com or 734-623-2529. You also can follow him on Twitter or subscribe to AnnArbor.com's email newsletters.