Posted on
Tue, May 18, 2010 : 6:03 a.m.
Deep cuts to police and fire avoided as Ann Arbor City Council approves 2010-11 budget
By Ryan J. Stanton
During a nearly six-hour meeting that stretched until close to 1 a.m., the Ann Arbor City Council passed a budget Monday night for the upcoming fiscal year that — although not entirely balanced — carries the city forward in relatively stable condition.
The council decided unanimously to use a $2 million transfer of parking revenue from the Downtown Development Authority, add $952,000 back to projections for state revenue sharing, and increase parking fine rates to generate an additional $625,000 in revenue.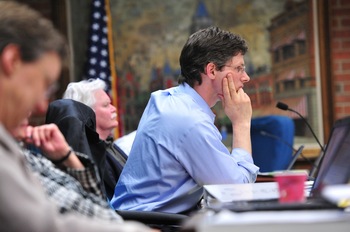 Ryan J. Stanton | AnnArbor.com
"It is with more than hope that I think we can confirm that the revenue sharing will remain whole," Mayor John Hieftje said. "We're relying on the best knowledge that we have available to us today and taking that knowledge and moving forward with it."
The nearly $3.6 million realized from those three measures brought general fund revenue for 2010-11 back up to about $79.9 million, which was enough to save 30 jobs in public safety, avoid a $260,000 cut to human services agencies, and halt plans to reduce park mowing and trimming.
"The county made a deep cut in human services when they did their budget, the state's been cutting their budgets for some time, and we are in some ways the last safety net to keep some of these agencies at work," Hieftje said. "It's remarkable. I think it says a lot about the members of the council that have served in the last several years that — in fact, if you go back over the years — Ann Arbor has actually increased its human services funding at a time when other cities have stopped doing it altogether."
Five positions are being cut in both the police department and fire department. Previously, 20 positions in each department had been slated for elimination under the city administrator's budget.
Police Chief Barnett Jones said the police department will be able to maintain current staffing levels. The five positions being cut have been held vacant for several months.
"It would allow us to maintain a proactive response, allow us to maintain (the Community Response Unit), allow us to maintain our numbers on the street," Jones said.
Fire Chief Dominick Lanza said the elimination of five positions in the fire department is manageable. He said fire stations will stay open, and the city still will be able to get at least four firefighters on the scene of a fire as quickly as it does today.
Lanza also said the city would be able to put 18 firefighters on the scene of a working fire within eight minutes, maintaining the city's insurance rating. He said it may take adjustments in the fire department's administrative staff to accomplish that, but it can be done.
Lanza said he'd like to reorganize the department, which would leave a net loss of three firefighters. One position currently is vacant, and six or seven firefighters are eligible for retirement, so there's a good possibility no one will lose their job, he said.
Ryan J. Stanton | AnnArbor.com
About 60 people attended the meeting, including several firefighters and many of the council's political challengers in this year's elections. Most of them filed out as the budget was approved with little contention.
Council Member Carsten Hohnke, D-5th Ward, said protecting public safety services was the best possible use of the $2 million from the DDA.
"A number of DDA members indicated it was their hope that the funds being transferred to the general fund would be used to support safety services, and there was also some concern expressed that that might not happen given the absence of an agreement at that time," he said. "So I'm also pleased that this amendment allows us to address those concerns."
The budget as presented by City Administrator Roger Fraser last month included a $1.53 million deficit for the new year starting in July. The council took no steps to close that gap.
Council members agreed it was OK that most of the amount being absorbed by the fund balance was for one-time capital expenses related to the police-courts building project.
"Where we draw the line is we don't want to spend our fund reserve on recurring expenses," Hieftje said, noting the added police-courts costs were always anticipated in addition to the $47.4 million project budget.
"It was never supposed to be built into the budget of the police and courts building," he said. "Those were some costs that weren't exactly known at that time, things like security equipment and some other high-technology type equipment, and that makes up the bulk of it."
Hieftje said city officials worked year-round on the budget this year.
"We really didn't stop working on this process from when we did it last year at this time, and that's probably what we're going to need to do in the coming fiscal year as well," he said.
Hieftje said he expects to have a clearer picture in the next few weeks showing where other Michigan cities fare with their budgets.
"As we take a look at that, we can make a comparison of where we stand. From what I can see so far ... we've come out of this in very good shape compared to other cities," he said, adding Ann Arbor's city budget usually wins an award every year. "I think there's about 5 or 10 percent of the cities in the nation that get it."
Council Member Sandi Smith, D-1st Ward, said she enjoyed the dialogue that surrounded this year's budget process.
"I think it's given us an opportunity to talk in the community about what our priorities are and I'm pretty proud of Ann Arbor and where we are today considering that we are residing in the state of Michigan," she said. "It's been a long hard road, but I would like to thank specifically the staff that spent so much time on getting us to this place."
Hohnke said he was glad the city passed a budget without increasing its millage rate while keeping safety services and human services intact.
"I think, as amended, the budget is a healthy and fiscally responsible one and serves the people of Ann Arbor well," he said. "If you look across the state, most communities are grappling with either millage rate increases, some kinds of tax increases, or significant layoffs in personnel. Sterling Heights, Taylor, Holland, Flint, Grand Rapids, Lansing — all of these communities are grappling with these significant issues."
Council Member Stephen Kunselman, D-3rd Ward, reminded his peers the city isn't out of the woods yet. He said next year will be the same story, as the city's administration already is predicting another deficit of $5 million or more in 2011-12.
The council voted Monday night in favor of an amendment halting plans to raise $25,000 in new revenue by allowing parking at Allmendinger and Frisinger parks during University of Michigan football games. Several residents had protested, saying it would damage the grassy fields.
Other amendments proposed to dig into reserve funds to avoid fee increases for contractor registration, rental housing inspection and planning were defeated by a majority of council members. Kunselman also lost a battle to decrease the city's tax administration fee revenue by $453,000. The fee is imposed on property owners in Ann Arbor to offset costs incurred by the city in collecting taxes and assessing properties.
Smith also proposed an additional amendment to avoid de-energizing certain street lights in the city, but that too was defeated.
Ryan J. Stanton covers government for AnnArbor.com. Reach him at ryanstanton@annarbor.com or 734-623-2529.