Posted on
Sun, Jan 30, 2011 : 6 a.m.
New report says city income taxes work best in smaller cities, are less reliable than property taxes
By Ryan J. Stanton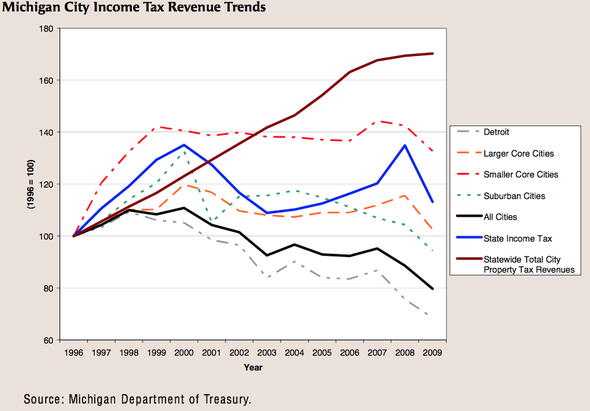 A new study by a Michigan-based research group says city income taxes appear to have worked best for smaller core cities, while many larger cities haven't seen the same success.
Among the report's findings is that city income taxes "pale in comparison" to property taxes in terms of revenue productivity and financial stability.
The 10-page report from the nonprofit Citizens Research Council of Michigan comes as many communities across Michigan — including Ann Arbor — are considering city income taxes to close multimillion-dollar budget shortfalls.
For a city like Ann Arbor, which would have to eliminate its general operating millage to implement a city income tax, the report seems to make a case against such a move.
"Income tax revenues are much more cyclical than property tax revenues, varying with growth and contraction in the economy," the report states. "Although a new city income tax may provide an infusion of revenues to support service provision, the fluctuations in revenues make it difficult to finance ongoing services at constant levels."
Even with the recent drop in property values, property tax revenues have been minimally impacted compared to the sometimes severe declines in income tax revenues, CRC found.
The idea of an income tax in Ann Arbor has been discussed many times over the years; it was twice rejected by voters years ago. City officials began reconsidering the idea after the University of Michigan purchased the former Pfizer campus, taking it off the tax rolls.
Mayor John Hieftje said the latest report from CRC reaffirms his thinking that a city income tax may not be the right move for Ann Arbor.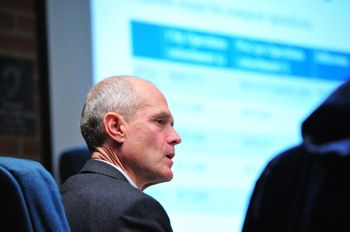 Ryan J. Stanton | AnnArbor.com
"I see a lot of problems with it," he said. "I look at the experience of other cities, and Grand Rapids lost something like 14 percent of their income tax revenue over the last couple of years. When you have a big recession, property tax revenues might dip 2 to 4 percent, but they don't drop 14 percent like you saw in Grand Rapids."
CRC notes its study looks at two distinct periods: before and after 2001. When economic growth was occurring in Michigan from 1996 to 2001, income tax revenues in most cities trended upward as personal income grew by 23 percent. After the recession hit, most communities — except smaller core cities — saw income tax revenues drop off.
CRC's analysis found local income taxes have worked best for smaller cities that serve as employment hubs in their regions and have populations of about 2,000 to 11,000. Examples include Big Rapids, Ionia, Albion, Lapeer, Portland, Hudson and Grayling.
Larger core cities with an income tax — like Battle Creek, Flint, Grand Rapids, Jackson, Lansing, Muskegon and Saginaw — have fared better than Detroit, which has done extremely poorly. But those core cities still lag behind the state income tax in terms of revenue productivity.
Since 1964, Michigan law has authorized cities to impose local income taxes as an alternative, or supplement, to property taxes. Today, 22 of Michigan's 279 cities levy a local income tax.
Other local governments — including counties, villages, townships and school districts — are precluded from levying an income tax. Because of that, the report says one of the negatives of imposing a city income tax is the potential to create disincentives for people to live or work in communities where they know their earnings will be skimmed.
"The higher tax burdens can create incentives for people to locate and find jobs in cities or townships that do not levy a local income tax," the report states. "It also creates incentives for corporations to locate in cities without city income taxes."
Another downside is the need to create a new layer of bureaucracy to administer an income tax, which is an ongoing activity. It also places a new burden on those who have to file returns.
The last Michigan city to impose an income tax was Ionia in 1994. Since then, other cities have tried to get voters to approve an income tax, but those measures have failed.
Among the 22 cities with an income tax, five are home to higher education institutions for which the cities receive little direct benefit from property taxation.
Eric Lupher, CRC's director of local affairs, said the fact that Ann Arbor is home to the University of Michigan is perhaps the city's biggest reason to consider an income tax. He said income taxes tend to work better in cities where economic conditions are stable and where there is a large amount of tax-exempt property, such as government offices.
"Ann Arbor is in a unique position. They're the seat of government for Washtenaw County, so there are a number of factors that line up," Lupher said.
Lupher said a city income tax has worked particularly well for the city of Walker, a suburb of Grand Rapids that is home to Meijer Inc. corporate headquarters.
"They chose to rely mostly on the income tax. It's worked well for them," he said. "It's a nice place to live, the income tax is a healthy source of revenue and things are working well."
CRC's report found city income tax revenues have reflected not only economic fluctuations, but also out-migration and loss of income in the state's largest core cities.
"The fact that city income tax revenues, as a whole, have not done as well as state income tax revenues may reflect the makeup of the larger cities that levy this tax," it states. "Several of the cities in the state that are suffering the greatest economic decline levy city income taxes."
Ryan J. Stanton covers government and politics for AnnArbor.com. Reach him at ryanstanton@annarbor.com or 734-623-2529.