Posted on
Mon, Mar 15, 2010 : 4:05 p.m.
New rule to prompt University of Michigan to re-examine holdings of Native American human remains
By Juliana Keeping
The University of Michigan will have to re-examine its holdings of Native American human remains under a change to federal guidelines announced today.
The U-M Museum of Anthropology has about 1,400 human remains in a storage facility that are 800 to 3,000 years old.
The 1990 Native American Graves Protection and Repatriation Act, known as NAGPRA, requires museums, federal agencies and institutions to inventory holdings of human remains and identify their cultural affiliations with tribes. Native groups can then claim the return of remains deemed to be culturally affiliated with them.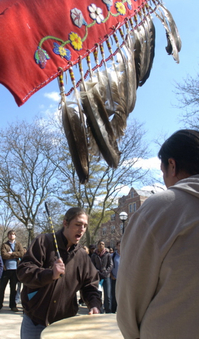 Ann Arbor News file photo
What to do with the vast number of human remains where cultural identity hasn't been determined hadn't been fully addressed in the law and has been a sticking point between the University of Michigan and some Native American groups. U-M has designated the 1,380 human remains it stores "culturally unidentifiable."
Under the rule change, U-M museum officials would need to alert modern-day federal tribes of any "culturally unidentifiable" human remains it has that were discovered near areas the tribes historically occupied. Those tribes could ask for the remains to be returned based on the geographic link. A national review committee would settle disputes between tribes. The change will take effect in May.
John O'Shea, NAGPRA coordinator and curator of the U-M Museum of Anthropology, said the rule change would empty museums of Native American human remains and end future study of them. Some scientists, like O'Shea, say there are valid reasons for holding onto human remains, such as advances being made in the recovery and analysis of human DNA that could reveal more about the lives of America's native people.
"The legal standard is much lower than scientists are accustomed to using," said Sherry Hutt, the program manager for National NAGPRA, a federal government program that assists the U.S. Secretary of the Interior with responsibilities related to the act.
"The idea is these are human beings," Hutt said. "We are going to treat these human beings the same way we've treated the dominant culture." Hutt said that the change prompts consultation between institutions and Native American groups and reinforces what was already required in the law.
A U-M panel was formed in October 2009 to examine ethical and scientific concerns surrounding the storage of the remains. The chairman of that committee was not immediately available for comment.
U-M spokeswoman Kelly Cunningham said the university intends to comply fully with the change.
"The regulations clearly establish a framework for disposition of culturally unidentified human remains," Cunningham said. "We will, of course, comply with the consultation and disposition requirements. The university will be setting up a process that will include discussions with American Indian communities about appropriate disposition."
The storage of human remains has caused conflict between U-M and Native American groups.
In November 2007, the Saginaw Chippewa Indian Tribe of Michigan wrote U-M President Mary Sue Coleman, requesting the return of the remains of 405 people excavated in the 1930s and 1960s from sites in Lapeer, Macomb and Saginaw counties.
U-M responded that the remains at issue were culturally unaffiliated, and they could not, by law, return them.
In 2008, the U-M graduate activist group the Native Caucus staged a demonstration at the annual Dance for Mother Earth Powwow at Crisler Arena by blocking off 1,380 seats in protest. The next year, student organizers moved the Powwow, a two-day event of traditional dance contests, exhibitions and other cultural elements, from Crisler Arena to Saline.
Veronica Pasfield, a PhD candidate in the Program in American Culture and a Bay Mills Indian community tribal member, said the new regulations are a step in the right direction.
"From where we stand today, it looks like the new regulations have finally resolved some of the acknowledged areas of confusion within NAGPRA," said Pasfield, who is also a co-chairwoman for the Native Caucus. "I hope that the university will take the regulations seriously and not look for loopholes."
"It's great that these new regulations have come out," said Alys Alley, a U-M sophomore and co-chairwoman of the Native American Student Association. "I really hope to see U-M comply. I'd like to see my ancestors go back to their graves as soon as possible."
Until then, the student-run Powwow, which is April 10-11, will remain off campus, organizers said. For the second year in a row, the event will be held at Saline Middle School. Organizers turned down U-M funding for the event.
Juliana Keeping covers higher education for AnnArbor.com. Reach her at julianakeeping@annarbor.com or 734-623-2528. Follow Juliana Keeping on Twitter