Posted on
Tue, May 14, 2013 : 12:33 p.m.
New Stadium bridges in Ann Arbor dedicated with special thanks to John Dingell
By Ryan J. Stanton
U.S. Transportation Secretary Ray LaHood had just one suggestion for Ann Arbor officials as they ceremonially dedicated the new East Stadium Boulevard bridges on Tuesday.
"I do think the name 'John Dingell' would look very good on this bridge," he said with a smile. "I really do … so, mayor, I don't know how you make that happen, but I think it's a good idea."
Moments later, Mayor John Hieftje and other city officials gathered to unveil a bronze plaque affixed to the side of the bridge at State Street, giving special thanks to Dingell for his assistance in obtaining nearly $14 million in highly competitive federal grant funding for the project back in 2010.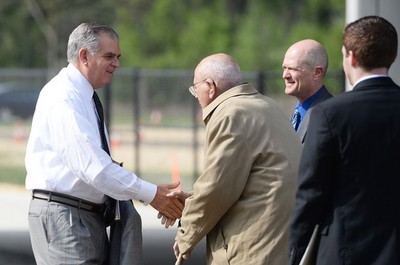 Melanie Maxwell I AnnArbor.com
"The truth is this never would have happened — the construction of this bridge, which was in very, very bad disrepair, would have never happened without John Dingell," LaHood said.
"That's what having a good representative in Congress means. That's what having somebody who has a loud voice means when it comes to getting projects done."
In addition to recognizing Dingell, the plaque includes the names of the 11 Ann Arbor City Council members who were in office when the project was approved.
"This was, as you can tell, a project that turned out well," Hieftje said. "I thought it was spectacular, given what a busy road this is, that it was completed in one year."
The $22.8 million replacement of the 83-year-old spans over State Street and the adjacent railroad tracks began in November 2011. The new bridges opened to traffic in November 2012.
Ann Arbor received $13.9 million from the U.S. Department of Transportation and about $2.9 million from the state to cover nearly three quarters of the cost. The remaining funds came from various city sources, including the city's street and bridge resurfacing and reconstruction millage.
LaHood said Dingell called him about replacing the deteriorated Stadium bridge spans on more than one occasion, and Dingell sent him pictures to further make the case.
"He made it clear to me that of all the important projects — all the important infrastructure in his district — this was No.1. This was the bridge that had to get fixed," LaHood said.
"This bridge is an economic corridor," LaHood added. "It will bring people to the community. It will be an opportunity for people to have a safe structure. Obviously the other structure was not safe."
Following LaHood's suggestion to make sure Dingell's name appeared on the bridge somewhere, the longtime congressman shouted in jest: "I didn't put him up to this!"
Dingell said he avoided driving over the Stadium bridges for years in their deteriorated condition and it's only now that the two spans have been rebuilt that he'll drive over them again.
"I didn't like the idea of driving across a bridge and looking down and seeing people walking around underneath me," he said, referring to the fact that portions of the bridge had been removed over State Street to reduce the risk of football-sized chunks of concrete falling below.
Hieftje said because the city saved nearly $17 million in local street millage dollars by securing grant dollars, the city has been able to ramp up repairs of admittedly tattered city streets.
Four artists from across the country are now competing for a potentially $360,000 contract from the city to create a new public art installation at the site of the Stadium bridges.
Aaron Seagraves, the city's public art administrator, said the artists will be presenting their proposals at 2 p.m. June 7 at a meeting taking place inside the council chambers inside city hall.
Ryan J. Stanton covers government and politics for AnnArbor.com. Reach him at ryanstanton@annarbor.com or 734-623-2529. You also can follow him on Twitter or subscribe to AnnArbor.com's email newsletters.