Posted on
Wed, Nov 30, 2011 : 10:33 a.m.
New U-M police chief will return to head EMU's public safety department - for less pay
By Paula Gardner
Update: Greg O'Dell says leaving U-M police to return to EMU strictly a personal decision
Greg O'Dell, appointed chief of the University of Michigan Department of Public Safety over the summer, announced this morning that he'll return to his former job at Eastern Michigan University.
With the change, O'Dell will vacate a position that pays $200,000 per year - and return to a job that will pay $149,000, representing $20,000 less than he earned in the same position when he left EMU.
According to a statement from EMU, O'Dell will resume his duties in December, following final approval from EMU's Board of Regents.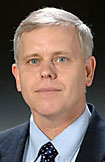 "To say I am delighted by this announcement would be an understatement," said Susan Martin, president of Eastern Michigan University, in a statement.
"Chief O'Dell has made a tremendous positive impact on the safety of Eastern's campus and is a significant part of our overall effort to revitalize the institution - resulting in enrollment growth, improved student test scores and retention rates, and considerable investment in new and renovated academic buildings, residence hall upgrades, campus infrastructure and more than 800 acres of beautiful grounds."
O'Dell, an Ann Arbor resident with more than 30 years of experience in law enforcement, originally started at EMU in February 2008.
At U-M, O'Dell replaced Ken Magee, who resigned after an extended period of sick leave. O'Dell was hired following a national search.
O'Dell said in a statement: "I'm thrilled to have the opportunity to return to a job that I truly loved. I am looking forward to working with our outstanding police department team to continue the many crime reduction strategies and initiatives that we have put in place during the past three years."
As U-M's chief, O'Dell had promised to hold regular meetings with the public, one of which took place during Thanksgiving Week.
From AnnArbor.com's report of that meeting:
O'Dell presented statistics showing the number of reports and arrests the department has made this so far this year, compared to the same period last year and the year before. The statistics showed the number of crimes continuing to keep pace with statistics reflected in the annual report released in September.

Reports of crimes such as larcenies, burglaries, sexual assaults, aggravated assaults and motor vehicle theft are all down compared to November 2010 and November 2009, according to the statistics O'Dell provided. The report also showed that index crimes. the most serious crimes, including — homicide, forcible rape, robbery, burglary, aggravated assault, larceny more than $50, motor vehicle theft and arson — are down 30 percent from the same time one year ago.
Deputy Police Chief Joe Piersante has been appointed interim university police chief at U-M.