Posted on
Sat, Dec 31, 2011 : 5:58 a.m.
New Year's Eve in Ann Arbor: Ringing in cheer for diners, drinkers and those who want to stay sober
By Janet Miller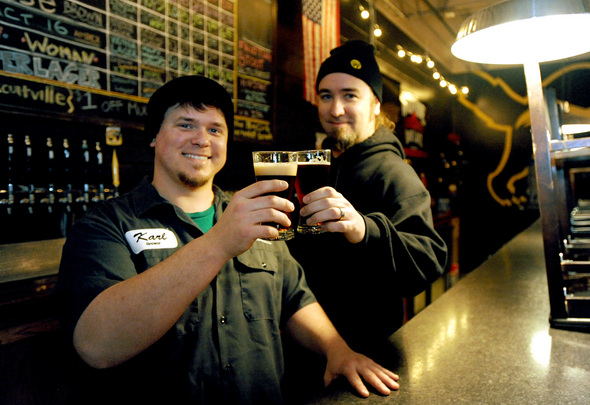 Angela J. Cesere | AnnArbor.com
Still making New Year's Eve plans? Here are local options.
As the Ann Arbor area prepares to bid 2011 goodbye and shake hands with 2012, New Year's Eve brings in more than another year.
For restaurants, it can bring in special menus. For bars and pubs, it can bring special brews. For cabbies on the late shift, it can bring especially generous tips. And for celebrants looking to stay sober, it can bring special events.
Surprisingly, it's not an especially busy time for bars, said E.T. Crowe, part owner and marketing director of Wolverine State Brewing Company, although having it fall on a Saturday will help.
Wolverine brewed three small batch lagers called the Neapolitan (as in the ice cream) Lager Expo that will be served just on New Year's Eve. One will have a chocolate flavor, another tones of vanilla while the third will be infused with hibiscus, the closest thing to strawberry since the strawberry flavor doesn't come through beer.
Wolverine brewed 10 gallons of each lager about five weeks ago and will also have the nine lagers they typically offer on tap, Crowe said.
Because Wolverine is not a food destination, New Year's Eve is expected to bring a crowd but not record numbers.
Many revelers are looking for food with their drinks on New Year's Eve, Crowe said. Still, her bar will have party hats and noisemakers and will ring in the New Year.
"Having it on a Saturday - Saturday is bar night - plays in a lot of bars' favor," Crowe said.
Many area restaurants roll out new menus for the night. Zingerman's Roadhouse looked to presidents for inspiration. Since 2005, their New Year's Eve menus have served the favorite meals of past presidents - and one current president - from Franklin Roosevelt to George Washington to Barack Obama.
This year, it's New Year's Eve with the Kennedys, said Joanie Hales, marketing and catering manager for the Roadhouse, featuring Boston clam chowder, salad mimosa, spring lamb, peach compote and more. The Roadhouse turns to the collection of presidential cookbooks at the William L. Clements Library at the University of Michigan (which houses one of the largest collections of its kind in the United States) for guidance, Hales said.
It's a way of honoring past presidents but also offering something unique, she said. "It's a way to honor the new hope that the New Year can bring to government."
AnnArbor.com file photo
It's been a hit with customers. Reservations are recommended for what is always a busy night, especially between 5-7 p.m. While the Roadhouse will seat parties until 11 p.m. New Year's Eve and diners can linger past midnight, most guests come for a meal on their way to another destination, Hales said. While past years have seen mostly groups of two to four diners, reservations this year are leaning large, with many parties of eight to 12 and even 20, Hales said.
New Year's Eve is a chance to test drive new dishes at Vinology with a four-course prix fixe menu with seatings on the half-hour, said Vincent Jonna, an owner.
By mid-week, the restaurant had reservations for close to 225 diners with room available only at the earlier and later seatings.
Vinology had just one month to prepare for New Year's Eve, Jonna said. The restaurant was booked for a private wedding. But when that was canceled, they decided to create a new menu just for the evening.
Vinology has shifted away from New Year's Eve music and wine giveaways in the past to focus on food, Jonna said. With a new chef brought in two years ago, Vinology has morphed from wine bar to destination restaurant with a unique menu and wine pairings, Jonna said, and New Year's Eve is a chance to cement that.
While it's not the biggest night of the year - Restaurant Week, graduation and football Saturdays can be bigger - it's still hopping, said Scott Baker, who works in the kitchen. "It's a special night for us," he said.
The night is also busy for area cab companies. While it's not the biggest night - Halloween and St. Patrick's Day beat New Year's Eve, it's bustling, especially in the wee hours, one cab company employee said.
"And it's a good night because drunk people are better tippers," he said.
Not everyone is looking for a wild time. Dawn Farm, an addiction treatment center, will host its first ever Umbrella Ball with music and dancing at their Community Barn.
It's a way of having fun without alcohol or drugs, said Ron Plunkett, manager of the Washtenaw Alano Club, a support center for people in recovery who also works at Dawn Farm.
"If people can't have fun in sobriety, what's the point?" he said.
The Alano Club has plans of its own, he said. New Year's Eve can be a challenging time for people in recovery, especially for people new to sobriety who haven't developed a network of sober friends or who are estranged from their families, Plunkett said. "Isolation can be deadly."
Starting at noon on Saturday, the club will hold an Alkathon, where they will stay open for 36 straight hours offering games, food, karaoke and meetings every two hours, he said.
"Those who are in recovery can be around a lot of drinking at holiday times. They may start thinking should they drink or could they drink. It's a vulnerable time," Plunkett said. But it's also a positive time, he said.
"Between Thanksgiving and New Years, we see many more people coming to meetings."