Posted on
Tue, Dec 13, 2011 : 6:28 p.m.
Possible outcome if Humane Society talks fail: More dogs euthanized and end of services for stray cats
By Ryan J. Stanton
With a little more than two weeks to go before the county's contract with the Humane Society of Huron Valley expires — and with no deal in place for a continuation of services — what happens to stray cats and dogs in Washtenaw County after Jan. 1?
That remains undetermined.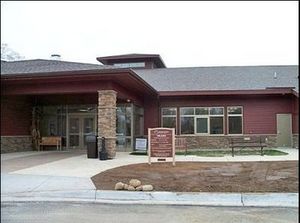 But if a deal isn't reached by the end of this month, the county will be forced to find another way to meet its animal control mandates on an interim basis.
And that appears to mean the county no longer would provide shelter and veterinary services for stray cats, while dogs could be euthanized in four to seven days.
County Board Chairman Conan Smith, D-Ann Arbor, said he met with Humane Society leaders on Tuesday.
"It was, from my perspective, extraordinarily productive," he said. "We didn't come to any long-term solutions or anything like that. We've still got a long way to go. But this was really the first formal opportunity to sit down and talk about how each of us perceives the challenge."
Smith said it was decided that County Administrator Verna McDaniel and Humane Society Executive Director Tanya Hilgendorf, who could not be reached for comment, are going to negotiate a one-month extension of the contract that will allow the two sides to continue negotiations into January without a disruption of services.
"I'm sincerely hopeful that we're going to come to some form of long-term arrangement with the humane society," Smith said.
Mike Walsh, president of HSHV's board of directors, said he's more optimistic now than he was before Tuesday's meeting.
"It's the first time we really met as far as a negotiating team," he said. "We're working out trying to get at least January covered while we continue to negotiate."
But with half the money previously budgeted for shelter and care services gone from the county's budget, it appears the county still is planning to cut back.
AnnArbor.com obtained copies of several emails recently sent out from county officials to residents and others. They indicate the county has been in talks with the Michigan Humane Society in Westland over providing interim care and shelter services if needed.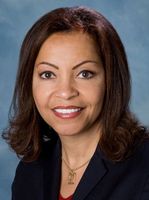 "We have not signed a deal with Michigan Humane Society in Westland at this time," McDaniel wrote in an email on Monday. "Should we need interim service providers, we will talk with others as well as Westland."
In another email, McDaniel said "we love our animals" and called the Humane Society issue "one of the toughest issues we have dealt with in a long time."
For many years, the county has contracted with HSHV to provide a sheltering facility for dogs and other animals to meet state mandates for animal control.
While the county has been pleased with HSHV's past services, the contract never has been competitively bid out, and the county board recently directed staff to do that following stalled negotiations on a new contract.
HSHV's contract with the county — worth $500,000 annually — ends on Dec. 31. The county wanted to cut the contract amount to $250,000 as part of budget cuts for 2012, but the agency's leaders balked at that offer, and now the county is considering other options.
The contract had been worth $200,000 per year until 2006, when HSHV and county officials met to work out a deal to increase funding to cover more of the costs of services.
HSHV advocates argue the $500,000 a year the county has provided the agency for animal control services already doesn't come close to covering what's mandated under state law, and that those mandates are met thanks to hundreds of thousands of dollars in donations from HSHV supporters who subsidize the costs every year.
Council officials said this week they're still hoping the two sides can reach a compromise on those areas where they disagree.
"Should the deal fail, we will work with our sheriff to explore an interim plan with several kennels and Westland, as well," McDaniel said.
The county's request for proposals includes a minimum scope of work for animal control services that the county believes are mandated by state law. The county is hoping HSHV can continue to provide those services, but it's open to other options.
According to the RFP, the selected bidder must be licensed or willing to become licensed by the Michigan Department of Agriculture and Rural Development to operate an animal shelter.
The RFP states the county is looking for a contractor to provide a shelter to hold stray and unlicensed dogs for the statutory holding period of four days for those with indication of ownership and seven days for those with no indication of ownership.
While in the contractor's care, the dogs must receive food, water, exercise and veterinary care. The RFP states the county is not requiring contractors to hold stray cats, birds or any other animals, and will not generally pay for such animals if they are sheltered.
Animal rights advocates throughout the county have reacted angrily to the county's decision, arguing it will lead to the euthanizing of many dogs and leave cats out in the cold.
HSHV has a save rate of more than 80 percent, a figure calculated by comparing the number of animals adopted or returned to their owner over the course of one year.
In 2010, stray animals that HSHV says the county is required to care for made up more than 4,500 of the 6,700 animals housed at the facility. About 500 animal cruelty cases are handled by the HVHS annually at no cost to the county, according to previous reports.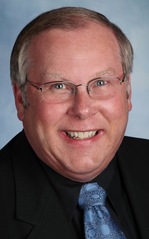 Commissioner
Rob Turner
, R-Chelsea, sent out an email saying the scope of service that the county can afford at this time is concerning to him.
"With the fact that mine is a family with two cats, one of which we adopted two weeks ago from the HSHV, it also concerns me that we are having to drop the coverage of stray cats," Turner said. "But it is not in our mandate .... With better economic times, this is a service I will fight to have it restored."
Turner's email states the county is prepared to work with the Westland shelter for a 30- to 60-day basis until the county can come up with a long-term agreement.
The RFP states the selected contractor only will be required to accept stray and unlicensed dogs from county residents with proof of residency and law enforcement agencies located within the county. Dogs that are voluntarily surrendered by their owners are not considered stray dogs and, as such, will not come under the county's responsibility, the RFP states.
"It is my hope that HSHV will reply to the RFP and offer to sell us services at a unit price that we can afford within our budget," Commissioner Barbara Levin Bergman, D-Ann Arbor, wrote in an email that also referenced the likelihood of interim services with the Westland facility.
It's also been rumored that the county is in talks with another facility west of Washtenaw County that could handle dogs from the western side of the county.
Multiple commissioners have said they wish HSHV would show more willingness to work with a reduced contract amount instead of forcing the county to look elsewhere.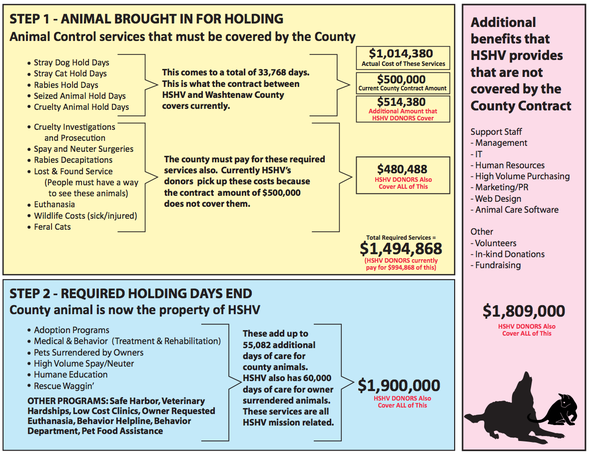 Ryan J. Stanton covers government and politics for AnnArbor.com. Reach him at ryanstanton@annarbor.com or 734-623-2529. You also can follow him on Twitter or subscribe to AnnArbor.com's e-mail newsletters.