Posted on
Thu, Oct 25, 2012 : 5:59 a.m.
Judge didn't have conflict of interest but violated ethics code in Jenny's Market ruling, opponent alleges
By Kyle Feldscher
This story has been corrected to show judicial candidates cannot solicit donations of more than $100 from attorneys, but can accept donations of up to $3,400.
When Washtenaw County Trial Court Judge Timothy Connors made a ruling last week in a lawsuit filed against a popular farm market, he was ruling in favor of a lawyer who serves on his re-election committee.
Nothing in the Michigan Court Rules and Michigan Code of Judicial Conduct addresses the issue of judges hearing cases in which one of the parties or his or her lawyer is a campaign supporter. But least one area lawyer, who supports Connor's opponent in the upcoming election, says it could be considered a conflict of interest.
More troubling, alleges Michael Woodyard, Connors' opponent in the Nov. 6 election, is that the judge appeared to violate a section of the Michigan Judicial Code of Conduct by asking his wife's opinion.
Mark Koroi, a lawyer from Plymouth, said the judicial code is vague in the conflict of interest area and leaves it up to the judge's discretion in matters such as the one that came before Connors last week. Most judges would recuse themselves, he said.
A representative from Connors' office said he would not comment on the matter because judges are prohibited from speaking about pending cases. But other lawyers said there's no problem with Connors handling the case, at least as far as conflict of interest rules go.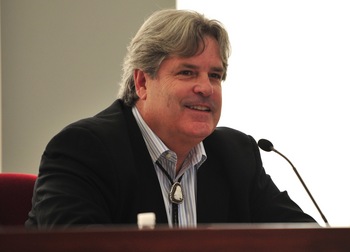 Ryan J. Stanton | AnnArbor.com
Connors made headlines Friday when he
decided to personally inspect a straw maze
at Jenny's Farm Market west of Dexter to determine if it was safe. Connors ruled against Webster Township's request for a preliminary injunction to shut the maze down immediately. Township officials contended the maze was not safe in a lawsuit filed earlier this month.
John Bredell, the lawyer representing Jenny's Market and operator Burton Hoey, also serves on Connors' re-election committee.The court case seeking to close down the maze continues and Connors urged the two sides to reach a settlement. Hoey is also suing the township because it has refused to grant him a permit for a bathroom.
Bredell, who is listed as one of several vice-chairmen of the committee, said he's only been to one meeting of the committee and often faces off against other lawyers who are on Connors' committee. He said any implication that Connors favors attorneys who support him politically is false.
"Both sides are very interested in having the rules applied fairly," he said. "There are no defense attorneys complaining about the process in front of Judge Connors."
A review of the Michigan Court Rules and Michigan Code of Judicial Conduct showed no specific rules on how judges should handle hearing arguments from an attorney who is also political supporter. Judicial candidates may not solicit donations of more than $100 from attorneys. However, they are allowed to accept donations of up to $3,400 from their lawyer supporters.
The committee to re-elect Connors filed for a waiver from reporting campaign finances to the state of Michigan because the campaign expects to raise and spend less than $1,000.
Many area lawyers are listed on the committee's website as members.
"I've certainly lost numerous case in front of Judge Connors," Bredell said. "Statistically, I have to. The inference that if you're John Bredell, you'll win in front of Judge Connors, is false."
Bredell and Connors worked together at a law firm more than 20 years ago. Michigan court rules prohibit a judge from taking a case involving an attorney who has been a colleague any time during the previous two years.
An attorney who recently lost a case to Bredell in Connors' court said he never thought the judge was anything but fair to both parties.
Mike Daniels, an Auburn Hills-based attorney, said Connors ruled in favor of him on a number of different motions in the case and he never felt that Bredell's relationship to Connors affected the proceedings.
"I'd be stunned if, in a circumstance like that, Tim Connors made a decision based off his relationship with John Bredell or a relationship like that," he said.
He added it's not unusual for lawyers to be supporters of judges' political campaigns. The majority of donors to judicial campaigns are attorneys and the diversity of the contributors makes it hard for judges to have biases toward one lawyer against another, Daniels said.
"My general experience with the judiciary in Michigan is I don't worry and never really worry whether my opponent gave the judge money or support in their last campaign," he said.
Officials from the State of Michigan Bar Association declined to comment on the case. A call to Webster Township's representative at the hearing was not returned.
Woodyard, who's seeking to unseat Connors in the Nov. 6 election, didn't see much of a problem with Connors' ruling on a case that involves a lawyer on his re-election committee. Woodyard said Washtenaw County's law community is like a small town. Everyone knows everyone, he said.
What Woodyard was more concerned about was Connors' statement that he consulted his wife's opinion on whether the maze was safe. He called that a violation of Canon 3 of the Michigan Code of Judicial Conduct, which bans ex parte conversations.
The code reads: "A judge shall not initiate, permit, or consider ex parte communications, or consider other communications made to the judge outside the presence of the parties concerning a pending or impending proceeding."
Woodyard said that prohibits the judge seeking that type of advice from his wife.
"A person who's not party to a lawsuit and is not called as a witness has the judge's ear and offers their perspective," he said. "I don't think it's appropriate. I think practicing lawyers … would be justified in questioning why the judge is seeking his wife's perspective," Woodyard said.
Koroi agreed and said Connors consulting his wife is "outrageous."
Kyle Feldscher covers cops and courts for AnnArbor.com. He can be reached at kylefeldscher@annarbor.com or you can follow him on Twitter.