Posted on
Thu, Oct 13, 2011 : 2:10 p.m.
Nonprofit group's 'Truth Squad' says anti-bridge ad from Willow Run Tea Party distorts truth
By Cindy Heflin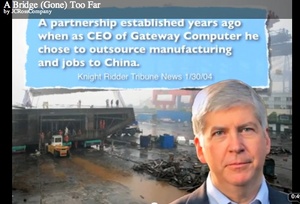 The nonprofit think tank, the
Center for Michigan
, is crying foul on an
ad from the Willow Run Tea Party
hinting that Michigan Gov.
Rick Snyder
's recent trip to China is somehow linked to possible Chinese backing for a proposed publicly owned bridge between Detroit and Windsor.
The ad alleges Snyder shipped jobs to China while he was CEO at Gateway and implies that the Chinese have been hired to complete many public projects in the United States.
In a news release, the think tank says its Truth Squad examined the ad and concluded, "the ad misstates Snyder's record at Gateway and uses fear-mongering to imply the Chinese government is taking over Michigan and the rest of the United States."
The analysis notes that Chinese firms have won contracts for some public projects in New York and elsewhere, but said American union workers will do most of the work on U.S. soil.
Efforts to build a new bridge, which would be privately financed and publicly owned, between Detroit and Windsor, Canada, are opposed by Matty Maroun, who owns the Ambassador Bridge, the only current automobile crossing over the Detroit River. Many Republican legislators also oppose it.
Watch the ad below.