Posted on
Tue, Nov 8, 2011 : 1 p.m.
Standoff over: Details on the new University of Michigan nurses contract
By Kellie Woodhouse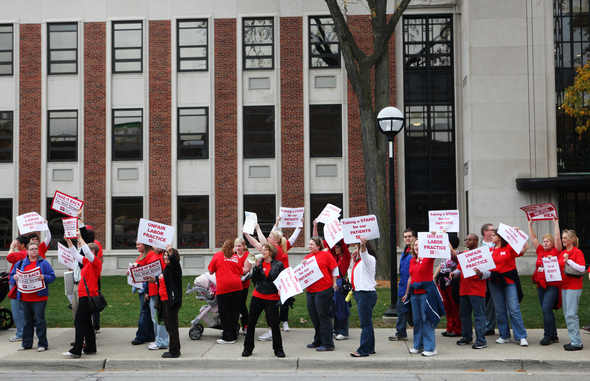 Jeff Sainlar I AnnArbor.com
Katie Oppenheim
prides herself on leading what she considers the most aggressive bargaining unit at the
University of Michigan.
Oppenheim led the U-M Professional Nurse Council and Michigan Nurses Association in seven months of tense contract negotiations with the U-M Health System. During that time, the MNA met with UMHS officials more than 50 times and held three large-scale protests criticizing UMHS for wanting to cut back overtime allowances and benefits.
But as U-M nurses decried proposed cutbacks, university officials lamented a tough budget year that put the health system $23.5 million in the red and included the completion of a $754 million children's and women's hospital. At a September Board of Regents meeting U-M's Executive Vice President for Medical Affairs Ora Hirsch Pescovitz called the fissure between the two parties "significant."
Negotiations between the two groups became so unravelled that over the summer the MNA filed a complaint with the Michigan Employment Relations Commission regarding UMHS's conduct during contract negotiations. Additionally, a state appointed mediator had to intercede during negotiation meetings starting in August due to their heated nature.
In early October, the nurses began discussing a strike.
The standoff left relations between the nurses and their employer strained, but resulted in a series of significant compromises that were finalized on Sunday when a contract, which runs until June 30, 2014, was officially ratified by a 2 to 1 margin. The nurses had been working without a contract since June 30.
The contract extends benefits to more than 4,000 nurses.
"We were able to do some things that no other work groups at the university have done," Oppenheim said of the contract. "If we hadn't had the activism of our members then the only thing we could have done was just agree to whatever was brought to us in the initial proposals."
The contract, according to UMHS, raises health system costs associated with nurses pay and benefits 3.5 percent per year.
In statement, UMHS implied that the difficult negotiations had not permanently strained its relationship with the nurses.
"We are pleased that we have come to this agreement after months of good faith negotiations," Margaret Calarco, UMHS chief of nursing, said. "We look forward to continuing to provide quality patient care by the highest caliber nurses in the country."
Oppenheim said the "professional relationship" between the nurses and their employer is still intact, despite the lengthy and heated negotiations.
But it is clear that some tension remains.
"I'm not saying that it's good, what the university has done," Oppenheim said of a few unwelcome changes in the contract.
Key agreements in the contract include:
Nurses will receive a 3 percent pay increase in 2012 and 2013 and a 4 percent increase in 2014. That's a significant difference from UMHS's desired 2 percent increase for each of the three years, Oppenheim said. The increase means that most nurses will make between $5 and $10 additional per hour by the end of the three-year contract. The wage change does not apply to nurse practitioners.

In 2013 and 2014, Nurses will pay 30 percent of their health insurance premiums, up steeply from the current level of 15 percent. UMHS will pay the remaining 70 percent. However, that 30/70 ratio also includes prescriptions, physician visits and other procedures. "People will pay 30 percent of all their healthcare costs," Oppenheim explained. U-M began shifting healthcare costs to employees at each of its three campuses in 2010.

Nurses lost eight hours of paid time off per year, but got restructured sick leave allowances. After two years with UMHS, a nurse may take six months of approved paid sick leave and six months of sick leave at half pay. That's a significant change from current allowances, which don't grant more than ten weeks of fully paid extended sick leave. Under the old contract, nurses with less than five years at UMHS received 24 days of paid time off each year.

The contract includes new language that supports uninterrupted lunch breaks. Nurses skip their lunches "all the time, routinely" under current conditions, Oppenheim said. "Obviously if people don't get to eat that's going to impact their care," she added. The contract also gives nurses more control over patient scheduling.

The agreement clarifies that members of MNA must pay dues even if no paycheck is received.

The contract also mandates that UMHS will assist a nurse abusing prescription drugs in finding rehabilitative treatment. It states that if a nurse is believed to be stealing medication, a thorough investigation must take place before that nurse is discharged.
Kellie Woodhouse covers higher education for AnnArbor.com. Reach her at kelliewoodhouse@annarbor.com or 734-623-4602 and follow her on twitter.