Posted on
Mon, May 6, 2013 : 12:42 p.m.
Obama calls University of Michigan 'that certain university up north' during Ohio State commencement
By Kellie Woodhouse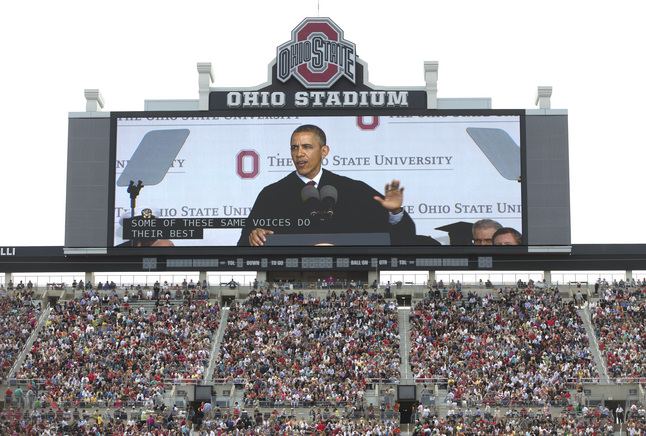 AP Photo
Three years after he spoke at the
University of Michigan
's commencement, President
Barack Obama
addressed
Ohio State University
and played up the two schools' bitter rivalry.
He said that while, yes, he did speak at U-M, "everybody can get some redemption."
Melanie Maxwell | AnnArbor.com
During the Sunday graduation speech, Obama also took a note from OSU's football coach Urban Meyer, not daring to call U-M by name, instead referring it to "that certain university up north."
Obama's remarks engendered laughter from the crowd. Here is his comment in full:
"It is true that I did speak at that certain university up north a few years ago. But, to be fair, you did let President Ford speak here once — and he played football for Michigan! So everybody can get some redemption."
When Obama visited Ann Arbor on May 1, 2010, he didn't mention OSU but he did play to students' school pride.
"It is great to be here in the Big House, and may I say 'Go Blue!' I thought I'd go for the cheap applause line to start things off," he said to a crowd of more than 80,000 that day.
He also returned to U-M in January 2012 to talk about college affordability. When he visited then, he referred to Michigan Football, saying it "will be a team to be reckoned with."
Twitter CEO and U-M alumnus Dick Costolo gave U-M's commencement address Saturday at Michigan Stadium
Kellie Woodhouse covers higher education for AnnArbor.com. Reach her at kelliewoodhouse@annarbor.com or 734-623-4602 and follow her on twitter.