Posted on
Sat, May 4, 2013 : 1:09 p.m.
Twitter CEO Dick Costolo tells University of Michigan graduates: 'Be bold'
By Kellie Woodhouse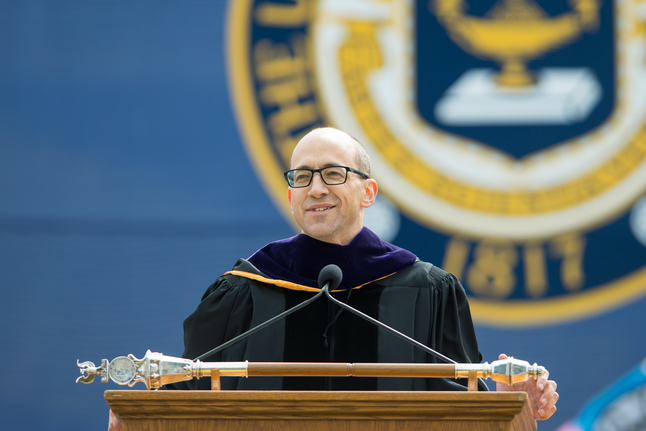 Courtney Sacco | AnnArbor.com
Dick Costolo began his keynote at University of Michigan's commencement ceremony Saturday not by speaking, but by tweeting.
The CEO of Twitter and U-M alum sent a picture of the roughly 5,000 students sitting across from him in the Big House, waiting to graduate, to his more than one million Twitter followers.
"I am a professional, so this should only take a second," he joked.
Daniel Brenner | AnnArbor.com
Costolo told graduates they "look like an amazing, giant choir" and urged them to be bold in their endeavors. He told them their lives were blank slates, that there is no script for their futures and that they should do what inspires them. He urged them not to look toward the expectations of other people, but to decide their own path.
"You have to figure out what you love to do, what you have conviction about and go do that," he said.
He also spoke about his time as an undergraduate at U-M. He studied computer science, but began taking acting classes during his senior year. When he graduated in 1985 he had three job offers to work as a programer for technology companies. He turned them down and instead tried to make it as an improv comedian in Chicago.
"I decided to make a big bet on myself and took a chance," he said, recalling how while trying his hand at improv in Chicago and took comedy classes he also worked part-time job at Crate & Barrel. "I was grinding away for a long time and I had no money."
He said that while studying improv he learned that he couldn't plan out all his moves ahead of time.
"The beauty of improvisation is you're experiencing it in the moment. If you try to plan what the next lines are going to be, you're just going to be disappointed."
That lesson, he said, often applies in real life, as well. Although Costolo at first wanted to be a comedian he began working on the Internet in the mid-1990s, eventually working for Google and joining Twitter in 2009.
"As you get ready to walk out under the bright lights of the improvisational stage of the rest of your life... be bold," he said. "Don't always worry about what your next line is going to be."
U-M president Mary Sue Coleman also urged students toward boldness during Saturday's ceremony.
"You will take risks. You will make a difference with your advocacy, your inventions, your initiative, because these are the trademarks of leaders," she said. "You will create change for the better, you will work on behalf of your neighbors and you will do it with dignity and integrity."
Saturday's speech was Costolo's first commencement speech.
Costolo, who was a member of the Phi Gamma Delta fraternity as a student in Ann Arbor, last visited campus in Nov. 16, when he gave a talk about his experience as the top executive of one of the most popular social media companies in the world. U-M officials began forging a deeper relationship with Costolo when a group of communicators visited the company's California office in the fall of 2012 to talk with Costolo and other leaders about how to maximize U-M's presence on Twitter.
Costolo received an honorary U-M degree Saturday, as did U-M donor and businessman William Brehm, ballet dancer Suzanne Farrell, scholar Rosabeth Kanter and historian David McCullough.
At the end of her speech, Coleman told graduates:
"The University of Michigan, the Diag, the Cube— they will always be there for you."
Kellie Woodhouse covers higher education for AnnArbor.com. Reach her at kelliewoodhouse@annarbor.com or 734-623-4602 and follow her on twitter.