Posted on
Sat, May 1, 2010 : 2:50 p.m.
Obama's call for civil political discourse spurs national media discussion
By Nathan Bomey
President Barack Obama used the platform of the University of Michigan's spring commencement ceremony to promote civil political discourse.

Here's a sampling of what the national media is saying about the speech:
•Wall Street Journal: Obama defends government action in Michigan speech. Excerpt: "Mr. Obama chose a venerable setting to appeal for 'a basic level of civility in our public debate. He cited John F. Kennedy's 1960 address here that fostered the Peace Corps, and Lyndon Johnson's graduation address that launched the Great Society. The university Jumbotron broadcast clips of addresses by George H.W. Bush and Bill Clinton as well."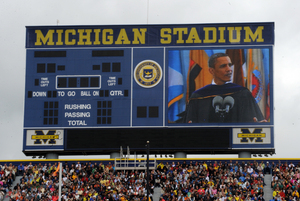 Melanie Maxwell I AnnArbor.com
•Reuters: Obama touts government service. Excerpt: "Obama, a Democrat, used a commencement address at the University of Michigan to encourage new graduates to engage in civil debate -- an issue Obama feels is often missing in Washington -- and expose themselves to different political points of view."
•Christian Science Monitor: Glenn Beckers, check out HuffPo, Obama urges at Michigan. Excerpt: "Speaking at the University of Michigan commencement address in Ann Arbor, Obama urged fans of Fox News' Glenn Beck to pop on over to the Huffington Post once in a while. Or put aside the New York Times for a second and check out the Wall Street Journal editorial page."
•Associated Press: Obama takes direct aim at anti-government rhetoric. "In Obama's 31-minute address to what the White House said was his biggest audience since the inauguration, the president made no mention of Palin or the tea party movement. He did say that debates about the size and role of government are as old as the republic itself."
•Fox News: Obama in the 'Big House.' Excerpt: "Obama made one comment that some might interpret as a dig against The Fox News Channel. In talking about a question from a child asking if people were nice to him, Obama said "if you turn on the news today - particularly one of the cable channels - you can see why even a kindergartner would ask this question."
•Bloomberg: Obama denounces 'over-the-top rhetoric.' Excerpt: "The debate over the proper size and role for government goes back to the founding of the nation, he said. Much of that discussion no longer fits the current times, the president said."
•Washington Post: Obama urges Michigan grads to pursue diversity of thought. Excerpt: "Turning to government itself, echoing themes of his 2009 inaugural address, Obama led the crowd on a tour of government projects from public schools, national parks and the interstate highway system to Medicare to his own proposed financial reforms, currently opposed by Senate Republicans."
•The Hill: Obama bemoans polarized politics. Excerpt: "Obama bowed to the anxiety that had been stirred up by the economic downturn, and, in an acknowledgment of critics, noted longstanding debates throughout U.S. history over the role for and size of government. Members of the Tea Party movement, in particular, have focused their anger against Obama for expanding government, through his signature health care reform law and other initiatives."
Contact AnnArbor.com's Nathan Bomey at (734) 623-2587 or nathanbomey@annarbor.com. You can also follow him on Twitter and subscribe to AnnArbor.com Business Review's newsletters.