Posted on
Thu, Nov 24, 2011 : 5:59 a.m.
Occupy Ann Arbor leaders on a mission to open new 24-hour warming center before winter hits
By Ryan J. Stanton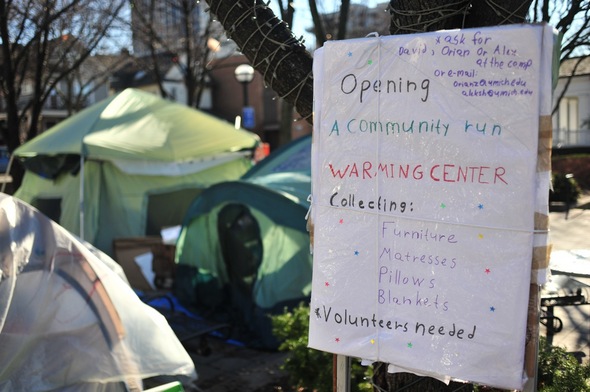 Ryan J. Stanton | AnnArbor.com
From meager beginnings as a group of tent-dwelling protestors in Liberty Plaza, the
Occupy Ann Arbor
movement has evolved and its leaders are now on a mission.
Their goal: to open a new 24-hour warming center for the homeless by December. They're out collecting petition signatures, holding fundraisers and lobbying the city for support.
But city officials and leaders in the nonprofit community don't sound so sure it's an idea that will work, arguing a warming center requires professional staffing and budgets are tight.
Representatives of Occupy Ann Arbor appealed to the City Council this week for city support for locating and potentially funding a space that could be leased or donated.
They say recent foreclosures, layoffs and pension cuts mean more people will be looking for shelter this winter, but the Delonis Center is cutting back on the number of spaces available. And there currently is no walk-in daytime warming center in Ann Arbor.
"Our vision is a 24-hour warming center democratically run by homed and homeless volunteers," said Orian Zakai, a graduate student at the University of Michigan. "This will be a place of community-building where homeless and homed individuals combine their skills, explore their creativity, and support and empower each other."
Zakai said 25 volunteers already are committed to working at the warming center this winter and more and more people are constantly asking to get involved.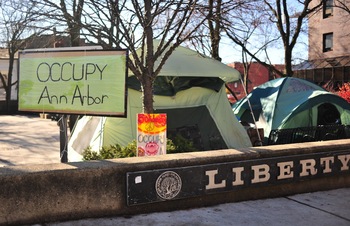 Ryan J. Stanton | AnnArbor.com
Mayor
John Hieftje
, who visited with members of the Occupy movement last week, said a walk-in daytime warming center "presents a lot of problems."
"I've spent years working on issues with folks at the shelter, and I think their concern would be that this type of facility needs professional management," Hieftje said. "There's all sorts of problems that can come up along the way."
Ellen Schulmeister, executive director of the Shelter Association of Washtenaw County, which runs the Delonis Center, agreed with the mayor.
Schulmeister said she'd caution the Occupy group that it's incredibly difficult to run a shelter without professional staffing, given the complexity of issues facing the population being served. Many are struggling with substance abuse problems, and simply providing a warm place for them to go could "feed a lifestyle of homelessness," she said.
"Every place has to be working toward sobriety and ending homelessness," she said. "It has to have that intent, otherwise you are just housing people and there's no end to it."
But absent a daytime warming center, Occupiers argue deadly low temperatures this winter will force hundreds of people in Washtenaw County without shelter to seek warmth inside places like public libraries, university buildings and local businesses.
At Monday's council meeting, members of the Occupy movement presented a petition signed by more than 500 members of the community in favor of a 24-hour warming center. They said they're still searching for a site that would be ready and available by December.
In previous winters, Occupiers say, dozens of people in Washtenaw County could be found sleeping under bridges, on sidewalks and on footsteps of churches — even when there were more shelter spaces available. They believe the needs are even greater this winter.
"As the county funding of social services is drastically diminishing, the city of Ann Arbor needs to adapt to the new economic situation and continue to care for all of its inhabitants," Zakai said. "We cannot maintain an image of prosperity while leaving people out in the cold."
Hieftje said most cities the size of Ann Arbor don't have a daytime warming center. He argued Ann Arbor still remains more generous in caring for the homeless than other cities.
Ryan J. Stanton | AnnArbor.com
Through a coordinated funding process earlier this year, the city and other funding partners — including Washtenaw County — collectively gave $207,551 to the Shelter Association for its residential program plus another $59,563 for its non-residential program. That money was part of more than $4.4 million provided to 40-plus local nonprofit agencies.
But county officials approved a new budget for 2012 that reduces the county's human services funding, and the county's general fund earmark for the Delonis Center is being cut from $160,000 to $51,230, in addition to other cuts to the coordinated funding for human services.
Fearing the shelter's overnight warming center might not stay open this winter, the Ann Arbor City Council agreed in October to up its commitment to the Delonis Center by $25,000.
The warming center accommodated more than 60 people on some nights last year, but with limited staff, that proved to be overwhelming and police had to be called on a number of occasions, Shelter Association officials said. It's now limited to 25 spaces this winter.
Schulmeister said 25 is the actual fire code capacity for the overnight program and it was never intended to reach above that level.
"We are not going to go over capacity this year because it's dangerous for us to do so," she said. "It's way too many people in one space."
The overnight warming shelter program runs in addition to the Delonis Center's year-round residential program, which accommodates about 75 people, and a program rotating among several area churches that shelters another 25 people during the winter.
That allows 100 individuals to receive shelter both day and night, Schulmeister said, but she acknowledged there still are other people in need.
"There's always been more need than there are spaces available," she said. "There's never enough money or resources to cover the need — hasn't been for the 13 years that I've been here. Which is not to say we shouldn't be working to fill the need."
Schulmeister said the Delonis Center strictly enforces a sobriety policy at its warming center, and those admitted must have a blood alcohol level of less than 0.1.
She said the shelter doesn't test for drugs for the overnight warming center program and there was a heroin overdose in the bathroom last winter.
The Shelter Association for many years ran a daytime walk-in warming center called Ashley Place, located kitty-corner from the Delonis Center, but it was torn down in 2003. Schulmeister said the place was out of control and police were called many times.
Having been in the business of caring for the homeless for many years, Schulmeister said she has a hard time believing volunteers could run a facility like that.
Schulmeister noted that the Delonis Center opens its doors during extreme weather events, such as blizzards, to allow additional people inside.
Ryan J. Stanton covers government and politics for AnnArbor.com. Reach him at ryanstanton@annarbor.com or 734-623-2529. You also can follow him on Twitter or subscribe to AnnArbor.com's e-mail newsletters.