Posted on
Fri, Nov 25, 2011 : 12:47 p.m.
Occupy protesters stage action at Ann Arbor-area Walmart Friday morning
By Paula Gardner
This story has been updated with information from Pittsfield Township police
A group of Occupy Ann Arbor protesters headed to the Walmart in Pittsfield Township on Friday morning to stage a Black Friday event to urge people to boycott the national (and largely corporate-fueled) shopping day.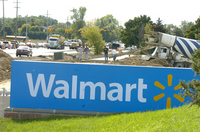 The group departed from Vet's Park in Ann Arbor shortly after 10 a.m., according to blogger Mark Maynard. He also was organizing an event that's to start at 2 p.m. Friday at the Water Tower in Ypsilanti.
Deputy Chief Gordy Schick, of the Pittsfield Township Department of Public Safety, said police were dispatched to the store after a report of a flash-mob style protest. He said the protesters were exiting the store when police arrived and, other than chanting loudly, were causing no problems.
Personnel from the store decided against taking any further action against the protestors, Schick said.
The Washtenaw County Black Friday protest was one of several planned in southeast Michigan today. The day after Thanksgiving — one of the biggest shopping days of the year — actually started on Thursday this year as more national stores opened earlier than ever before.
A story in the International Business Times says: "The occupy Black Friday protest, set to begin on Friday, is a part of a larger protest known as OccupyXmas that will carry on through Dec. 25."
On his blog, Maynard writes: "I encourage you to participate enthusiastically… and then maybe go and spend a few dollars with one of the local businesses that doesn't have people sleeping out in front of it, hoping to save a few dollars on this year's "must have" Tickle Me Elmo variant."
The Pittsfield Township protest was broadcast live on ustream.tv.
Watch the Walmart protest video.
If the Walmart protest sounds familiar, that's because a group conducted a similar event at the Ypsilanti Township store on Oct. 29 to urge the chain to recycle electronics.